McMullin, Stone & Associates, Inc.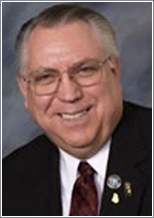 Philip D. McMullin understands that serving clients' financial and investment needs begins with building strong, lasting partnerships. He focuses on listening to each client because He believes everyone's needs and financial goals for the future are unique. As the President for McMullin, Stone & Associates, Inc. located in Fayetteville, GA, he serves clients from all over the United Sates. He puts his clients-and their needs-first.
With more than 38 years of experience in the financial services industry, Philip advises clients on a broad range of strategic risk and tax sensitive planning strategies. Blending integrity, hard work and a willingness to listen to each client like he or she is the only investor in the world, Philip is dedicated to assisting his clients in meeting their financial needs. He uses a hands-on approach when working with clients, meeting with each of them on a regular basis to ensure that their investments remain suitable for their objectives throughout changing personal and market conditions.
Offering a wide range of investment services and alternatives, Philip is committed to helping you achieve your financial goals. Specializing in pre-retirement growth and retirement planning and retirement cash flow management, He works with clients to design investment portfolios to meet their individual needs.  
Before joining Raymond James as a Principal and Financial Planner, Philip worked at a number of financial and human resources positions as a consultant in executive compensation, 401K development and implantation, insurance and risk management. He has served on the Board for two hospitals and several Homeowners Associations. Additionally, He currently holds Security Licenses (7, 63, 65, 24 and 51) and Life, Health and Annuity Insurance Licenses. These licenses cover multiple states.
Philip graduated from Pennsylvania State University Smeal College of Business in 1974 with a degree in financial and business management. He addition to all of his professional licensing he has completed his Certification in Financial Management from Emory University in 2008. A firm believer in continuing education, Philip enhances his education by staying updated through the annual brokerage and insurance continuing education requirements.
Philip McMullin is an active member of the Fayette County Chamber of Commerce. He is a graduate of Clayton Leadership in association with Clayton State College and University. Philip has been awarded the Chairman's Award for Extraordinary Service from the Clayton County Chamber of Commerce. He is the past president of the International Rotary Club of Clayton County and a current member of the Fayetteville Rotary Club. Philip was a board member for 18 years of the Southern Regional Medical Foundation. He is an active volunteer at First Baptist Church Jonesboro, including church administration and church building trips to South and Central America and Cambodia. He has been married to Debra Cooper McMullin for 31 years. They have two cats, Boone and Jessie, and a property full of deer, possum, raccoon, fox and birds or every kind.
Your Rights as a Client:
As our client you should expect:
Courteous service
Trustworthy and competent financial advisors
Suitable unbiased recommendations
Timely transactions at the best available prices
Full disclosure of costs and risks
Clear communications
Comprehensive statements and trade confirmations
Prompt error and complaint resolution
Strict confidentiality
To set up an appointment please call 770-471-6674 and speak with Rose Massengale. Our normal hours are 8:30am to 4:00pm.
Request Help or Information by filling out the form below