Lewis Kuhn Swan PC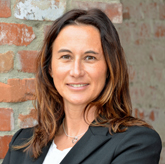 Rabea Taylor is an estate planning and elder law attorney. Her focus is on seniors, persons with disabilities, and their loved ones to plan for long term care, quality of life, and asset preservation. In addition to estate planning she provides complete Medicaid planning, from pre-planning to crisis planning as well as the Medicaid applications. Rabea Taylor also helps families in guardianship and conservatorship cases, estate planning documents geared towards long term care planning, revocable and irrevocable trusts, special needs trusts, and assistance with qualifying and applying for the VA Pension benefit.
About Rabea
Rabea Taylor earned her first law degree from the University of TÜbingen in Germany and her Juris Doctorate from the University of Denver Sturm College of Law. Ms. Taylor is committed to promoting the highest standards of excellence in the profession.
She is a member of the Colorado and El Paso County Bar Associations, the Colorado Springs Senior Resource Council and ElderCounsel, dedicated to the professional development and full practice support of elder law attorneys nationwide. She is admitted to practice law in Colorado state courts, and accredited by the Department of Veterans Affairs (VA).
Ms. Taylor offers a free 60 minute initial consultation. If you are interested in scheduling a free initial consultation with Ms. Taylor, please call 719-694-3000.
Request Help or Information by filling out the form below