Elder Care Consulting, LLC
Professional Geriatric Care Management and Home Care Services
Welcome to Elder Care Consulting our personalized services offer a unique comprehensive and flexible approach in meeting the needs of elders and their families. We are glad you took the time to visit us. Please contact us if we can answer any additional questions about our services.
Our Elder Care Consulting Team, lead by a professional geriatric care manager, offers assistance with planning for future health care needs, finding reputable services, transitional senior moves, professional geriatric care management, home care services, assisted living program and counseling/family mediation.
Our Elder Care employees have a variety of work and life experiences and each of us plays a different role in meeting the needs of the senior clients and families we serve.
Elder Care Consulting Vision
Our vision is to assist seniors to function at their highest level of abilities, support independence and to improve health despite chronic disease or memory impairment.
We believe that flexible and individualized supportive systems are key elements in this process.
Elder Care Consulting Mission
Our mission is to provide a unique health care service that embraces individuality, dignity, and personal choice.
Home Support Services
Elder Care Consulting realizes that supporting seniors in their home or assisting them to transition back to independence requires a variety of caring helpers.
Home Health Assistants
Home Health Assistants provide meal preparation, laundry, light housekeeping, medication reminders and transportation to appointments. They also have special training in providing the client with hands on personal care.
Live-in Aides/Companions
Elder Care Consulting employs live-in aides for senior who cannot live alone. We take the burden off of seniors and their families by employing the the most qualified 24-hour care. We provide employment screening, reference checks and eliminate the burden of tax requirements and liability.
Our Care Managers and caring helpers make up the core team of our Home Support Services. If you chose to use our Home Support Services we require a minimum of one to two hours of professional Care Management services a month depending on the level of client's needs. This professional over-sight is necessary to assure that there is ongoing education and professional direction to the staff member.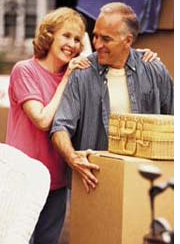 This also assures that the client receives the highest possible care. Please speak with your long-term care insurance as these services may be covered.
Transitional Moves for Seniors
Let our team of experts take the worry out of your move!
Moving is an emotional and overwhelming time. Elder Care Consulting assists older adults and their families with the entire process of moving and/or downsizing.
We will meet with you and your family members to map out future plans based on your needs.
If you have already made a moving decision, our moving coordinators will outline all the steps necessary to make the move go smoothly
We will provide you with a floor plan to assure that your furniture you have chosen will fit in your new surroundings.
We will provide advice on whether unwanted items should be donated, auctioned or disposed of
Organize items for packing
Hire reputable moving companies
Make sure your house is left in broom clean condition for resale value.
Provide emotional counseling and support as needed.
Request Help or Information by filling out the form below