Companion Home Care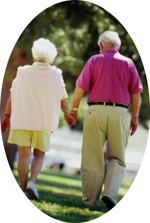 When seniors or individuals recovering from an illness or injury need long-term or short-term assistance with their daily living needs
"There's No Place Like YOUR Home"
for
COMFORT, CONVENIENCE, CONTROL, CONTINUITY, SAFETY and DIGNITY.
Companion Home Care of Long Island, Inc. provides non-medical companion services to seniors and others throughout Nassau and Suffolk Counties, New York.
Companions provide a wide array of services, including:
Driving and/or accompanying the client to the physician when necessary
Shopping and performing other household errands
Supervising ambulation and helping to prevent falls
Taking care of all personal laundry for the client
Preparing and serving meals according to client's dietary needs
Cleaning the bathroom and kitchen after use, including washing dishes after meals and mopping the floor
Medication reminders
Making and changing the bed
Cleaning the client's room, which includes dusting and vacuuming
Helping with correspondence to family and friends
Providing respite for family caregivers
Providing socialization, friendship and support for the client
Going on walks and encouraging and participating in stimulating activities
Companion Home Care of Long Island recognizes the fact that certain illnesses and afflictions are more common to seniors. Therefore, we provide special training to our caregivers on communicating with persons who have Alzheimer's and related Dementia, Hearing Loss and Aphasia, which ensures a higher level of care for our clients.
If nursing or full home healthcare services become necessary, we can refer you to an appropriate home health care agency.

Contact us today to inquire about our affordable rates and to learn more about Companion Home Care of Long Island and the services we provide.
Request Help or Information by filling out the form below