A Right Place for Seniors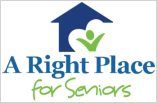 A Right Place for Seniors provides free referral and placement service to assist families in locating licensed residential care facilities for the elderly (assisted living facilities, board and care homes, dementia care facilities).
We HELP you and your loved ones find the right place to meet your care needs.
At A Right Place for Seniors, our top priority is CARE, SERVICE, QUALITY, and the PRIVACY of our clients! Our goal is to make life easy for our Seniors and families who are searching for Senior Living Options. We visit and check these facilities making sure they meet A Right Place for Seniors set of standards for quality of care. We understand that finding a reliable Senior Living Facilities, In-Home Care, or any type of Senior Services is time consuming, stressful, overwhelming, and sometimes very frustrating.
A Right Place for Seniors can HELP you and your loved ones in your search for the right place at NO cost to you. Contact our Senior Living Consultants Today! 1-800-804-3840.
Our services are delivered in three steps through our Senior Care Consultants:
STEP 1: Assessment
A personal assessment is undertaken to determine a client's financial, physical, geographic, social and emotional needs and preferences
Education is provided about the senior care options and resources available
Legal, financial and social resources are referred as needed
STEP 2: Care Options Provided
Senior care services and living options that match a client's profile are presented
We review current care violations with the client to ensure the services or situation is safe for seniors
We schedule tours for clients and families to selected care service facilities and providers
STEP 3: Placement
Guidance is provided through placement and transition, help is provided to facilitate a move
Communications between communities, health care providers and caregivers is facilitated.
Transition follow-up is provided to ensure needs and expectations are met.
Request Help or Information by filling out the form below