Humanitarian Empower Living
Purpose, Inc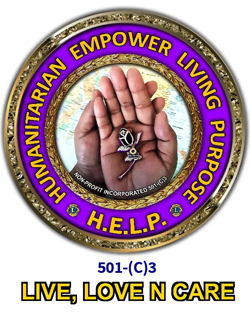 Specific Purpose and On-Going Projects
Provide charitable aid to domestic violence victims for women.
Provide scholarship grants and school supplies to high school students.
Provide goods to disaster and calamity victims.
Medical / Surgical Mission
Provide charitable aid to Low Income Seniors and disabled Veterans.
Humanitarian Empower Living Purpose, Incorporate (H.E.L.P.) in collaboration with Las Vegas HELP Lions Club and HELP4Seniors partners to local businesses, community organizations and health care organizations and private individuals to provide health services, clothing, groceries, adult incontinent supplies, gift cards to pay Over-the -counter medication or co-pay for prescription drugs.
HELP4 Seniors is a united act of compassion that helps the community in need. HELP4Seniors committed to volunteers who believe in building the safety of Low Income Elderly/ Disabled Veterans and the community through kindness generosity and tender loving care. HELP4Seniors is a program for Low income seniors and disabled veterans and there family to find a solution for there healthcare needs upon discharge from the hospital /long term care facility or rehabilitation center to live safely in there homes or find placement to:
License Residential Group Homes
Assisted Living
Home Health Services
Personal care Assistants
Home Makers
Primary care Physician
Hospice Care
Medication Co-pay (qualification apply)
Our Motto: LIVE LOVE CARE
Our Mission: Provide assistance during difficult times.
" Life is SHORT!!!" The legacy that we left behind, are the people that we HELP and lend a helping hand and give a chance to change for a better life" (Rose Naira - Founder/President)
Request Help or Information by filling out the form below