Foundational Home Care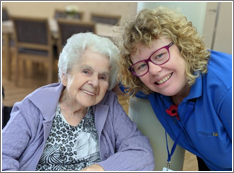 Our friendly and professional team of caregivers works hard to ensure the right home carer for each client. Why us? We care. It's as simple as that. Our coordinators are always available to take your calls and our carers are extensively trained to recognized standards, are honest and reliable. Our caregivers operate at all times within the bounds of our independently audited policies and procedures and in accordance with our Foundational Health Home Care values. Everything we do at Foundational is guided by our core values. All our caregivers are required to observe these values in all our interactions with clients.
Caring: We approach each client in a compassionate and understanding way.
Reliable: We build relationships with a foundation of trust
Responsive: We are proactive, flexible, and available whenever you need us
Ethical: We are principled, honest, and operate with the highest levels of integrity at all times
Individual: We acknowledge and respect each client's unique needs and circumstances.
It's never been easier to arrange a personalized professional Homecare plan so pick up the phone and call us now at (617) 676-2008 or email us at info@foundationalhomecare.com.
We provide seniors with top-quality care, compassion, dignity and independence, all in the comfort of home.
What's the Foundational difference?
There are a lot of home care agencies out there, and it's important to find the best care for your senior.
24/7 Support: We are on-call 24/7 if you have a last-minute request or have an emergency, a trained and in-house care manager will assist you whether it's at night, on a weekend, or on a holiday. Short term or long term? We are always here for you.
The Senior Home Care Search: We understand that the senior care process is difficult and hard to navigate - as experts in the industry, we can break it down into simple steps for you to understand.
Inspiring Independence: We inspire independence where our clients will be the most independent. Whether you are just shopping around or you need to make a decision quickly, we are able to assist you with your concerns.
Relationship-first: We rely on a relationship-first approach in our care for seniors. If your relative is on the fence about receiving care, we take extreme care in rapport and relationship development. When clients begin to see the benefits of having a caregiver around - they will keep wanting more.
What services are covered by our senior home care agency?
Companion care: Whether you just need someone to talk to, or you want to go in-depth into your soaps - we have the caregiver just for you.
Personal care: If you need assistance with showering or bathing, dressing, and transferring? We've got you covered everywhere in between.
Specialty care: If you are living with Parkinson's disease or if you are paraplegic, our well-trained caregivers are prepared to take care of you.
Hospice care: End of life does not have to be painful, and our caregivers are specifically trained on how to take care of clients using comfort care support services such as hospice and palliative care.
Live-in care: If you feel most safe and at ease having someone with you at all times, our caregivers are ready to be your roommate and partner in care. Light housekeeping: If you need and your house needs a little bit of TLC, our caregivers can help sweep floors, take care of the laundry, and make sure that your bathroom is squeaky clean.
Whether your loved one needs one specific type of care or a selection of options - we create unique care plans for each senior that we care for.
Request Help or Info in the Form Below