TriMED Healthcare, LLC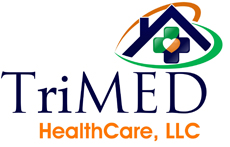 TriMED HealthCare, LLC is licensed in the State of Pennsylvania and is in the business of providing non-clinical in-home care services. What gives the TriMED a leg up on most in-home care agencies is that its owners and operators are experienced professionals and possess many years of experience in the services industries and are truly passionate about the area of in-home care. TriMED was founded by its owners, not only because it boasts a great business model, but because its owners view TriMED's services as an opportunity to serve its consumers as well as its team of caregivers.
The SERVICES offered include: Personal Care, Bathing, Grooming, Ambulation Assistance, ROM Exercises, Respite, Companion/ Sitter, Medication Reminders, Friendly Reassurance, Housekeeping Chores, Errands, Gardening, Social Services, Injury Care Management, New Moms, Locations serviced; Bucks, Montgomery, Philadelphia, Delaware, Chester, Lehigh, North Hampton Counties and the range of cities represented in these counties.
Request Help or Info in the Form Below