Jennifer Jenkins and Brenda Jones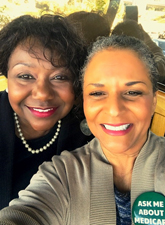 Whether it's healthcare coverage to supplement your Medicare benefits, Long Term or Short Term custodial homecare, or protecting yourself from an unexpected Critical Illness like Cancer, Heart & Stroke. We can help you make decisions that will project your nest egg. We can also help you establish an instant legacy for your loved ones.
You've spent a lifetime accumulating your retirement assets, now it's important to protect what you worked so hard for. We can even help you turn your retirement income into a lifetime income stream. Ask us how.
About Us
Jennifer Jenkins and Brenda Jones are a team of Asset Protection professionals with over 10 years of experience of protecting pre and post retirees We specialize in Medicare and Long Term Care options and so much more. Also affiliated with AARP United Healthcare offering a full array of healthcare options. For the Life of Your Retirement.
Request Help or Information by filling out the form below