SunCoast Senior Solutions, LLC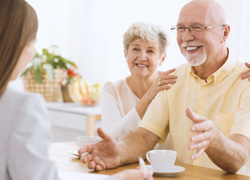 Providing Personalized Senior Living Options and Navigating the Senior Care Maze.

- Researching Communities
- How Pay for Senior Care
- Community resources
SunCoast Senior Solutions LISTENS
Listening to you allows us to thoroughly understand care needs, feelings, and habits (seeing the world through your eyes). This is a very crucial and an important part to our assessment. This is also the way to maintain a productive relationship, between us, our seniors and caregivers.
SunCoast Senior Solutions GUIDES
Guidance is another important step. This allows us to tour each community in person or virtually. Educate and advise you on the types of communities, care provided, services, and activities each community has and the importantly the process for entrance to each community.
SunCoast Senior Solutions PLANS Together
Planning with each step with you allows everyone to discuss thoughts, likes and dislikes together and decide which community is the best fit based on care needs, budget and activities. Other discussions would include community resources, understanding how to pay for senior living, state programs and /or attorney's if needed.
Our Hand Picked Team
Our compassionate and understanding team can assist seniors or caregivers find the best Assisted Living Community for their long term care needs! We work hard assisting our clients every step of the way by Listening, Guiding and Planning Together. We have well over 25 yrs of experience together. Helping our seniors, and working together with community resources is our passion. Our placement services are at no obligation to you and our goal is to ensure your choice for assisted living is the right one for you or your loved one.
We believe in not only providing the utmost specialized customer services but providing you with open and honest options as we would for our family.
Request Help or Information by filling out the form below