Home Downsizing Solutions
We want to help you before you reach that last step!
Don't let the nagging maintenance of your home stress you out any longer!
Why wait? Sell now! Find the perfect home for your needs as they are TODAY!
You don't have to hold on to a burdensome property any longer! Give us a call now to learn more!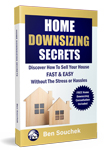 Want To Downsize Your House?
New FREE Book Reveals How To...
Sell Your House...
Fast & Easy...
In 7 Days Or Less!
I'd like to rush a FREE copy of my brand new book to your doorstep!
Request Help or Info in the Form Below