AccuAid Care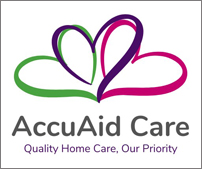 We are a family-owned company, differentiating ourselves from the corporate In-Home Care world by striving to build long-term relationships with our clients and providing the highest Quality Home Care.
OUR MISSION
At AccuAid Care we strive constantly to improve the way our clients age. We provide our clients with the highest quality care that helps them to live happier, healthier lives at home independently. AccuAid Care was founded on the belief that through a personalized and empathetic approach to care, we can enhance the lives of our clients as well as those who love them.
ACCUAID CARE provides compassionate and reliable in-home care to seniors with daily activities that may have become a struggle. Whether you or your loved one needs help due to injury or illness or just old age, we are here to provide care. If Activities of Daily Living (ADL's) seem like a daunting task, our professional caregivers provide hope, help, comfort and companionship with compassion. We also provide Respite Care for family members who need a well deserved break for themselves every now and again. We have also launched a new program called Travel Companion Program, in which our caregivers can accompany you while traveling. Call us today to schedule your free in-home care assessment.
Request Help or Info in the Form Below