Gerry Fioriglio RN, BS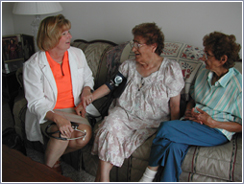 Did you know that by 2011 the first of 78 million baby boomers will transition into retirement and, one of every nine baby boomers will live to be at least 90? Family Caregivers Network along with other national organizations are working diligently to address the healthcare and long term needs of this adult population. Take control over your life now and learn about the services and benefits that will provide you with the quality of life you deserve.
Family Caregivers Network is a progressive Home Care /Elder Care Agency that provides a full range of In-Home Care, Geriatric Care Management, Education, Caregiver Support, Medic Alert Systems, and Senior Home Maintenance. We will be your advocate for your future long term care needs.
Request Help or Info in the Form Below