1. Login to the Online System
Once you register and have a username and password, you may login. You will see three main sections (seen below). The first section is used to create a Life Resource Survey/Plan (for an aging senior). The second section is used to create a Retirement Planning Survey/Plan (for a retiree). The final section is used to create an in-depth Life Resource Analysis/Plan (for an aging senior). Most planners use the Analysis to charge a fee, but any will work when appropriate.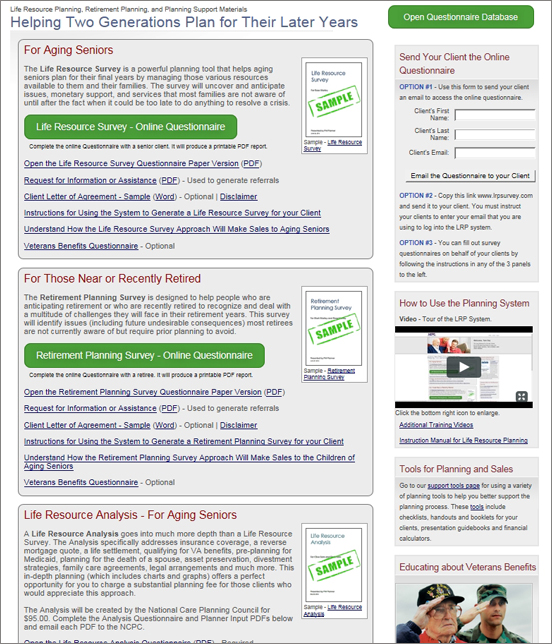 2. Decide whether or not to Use a Letter of Agreement
It is up to you to decide whether or not to charge a fee to create a plan for any of the above. If you charge a fee, we highly recommend you use a letter of agreement such as the sample one we will furnish you. Having an agreement might help you avoid repercussions.
3. Complete the Online Questionnaire
You can access the online "Life Resource Survey - Online Questionnaire" or "Retirement Planning Survey - Online Questionnaire" using the two green buttons shown above. You can also have your client complete the online questionnaire. Use the instructions and form in the right section to send your client the questionnaire. Below is a screenshot of the actual "Life Resource Survey - Online Questionnaire." You can save up to 30 questionnaires in your online database we provide.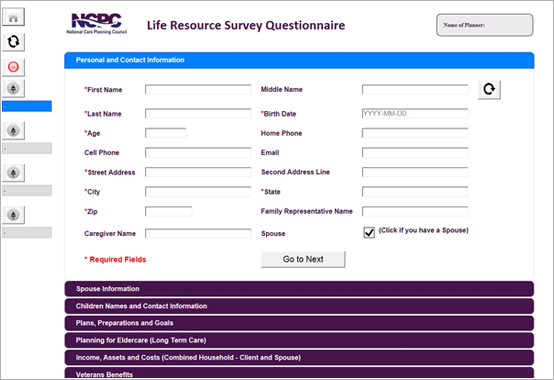 4. Generate the Plan in a Printable PDF Format
After you complete an online questionnaire, click "Generate Report" to open the plan. Plans are PDF formatted. They are easy to save, print, and email. Here are a few samples of a Life Resource Survey/Plan: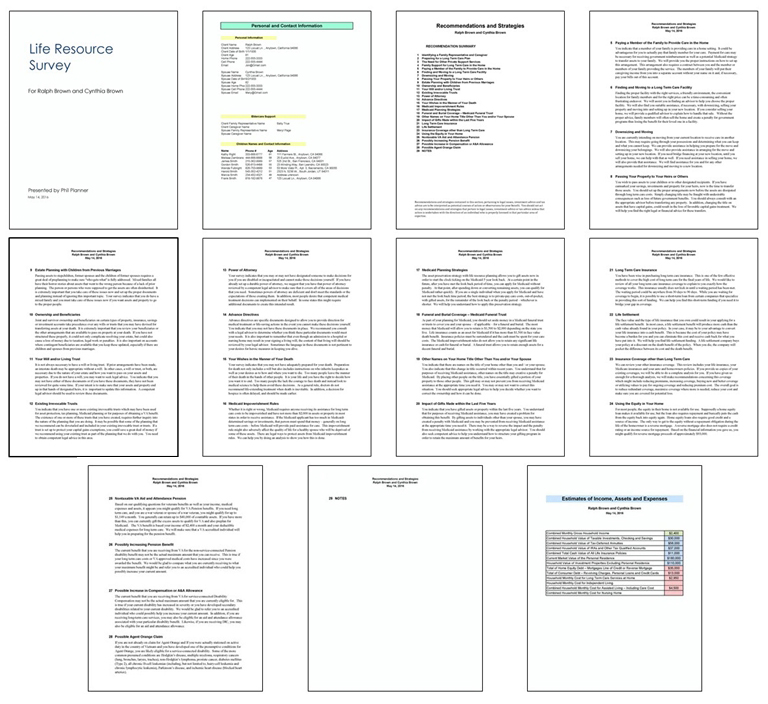 5. What do the Plans Recommend?
A plan could include up to 29 recommendations depending on what information is provided in the questionnaire. Recommendations are made in short, easy to read paragraphs (as shown above). You will want to go over each recommendation with your client. They will recognize that certain issues need to be addressed and will take action. Here is a list of the recommendations by category: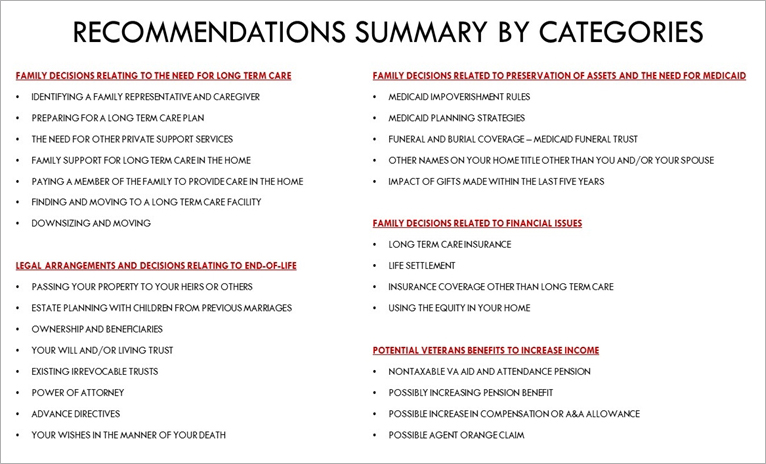 6. The Life Resource Analysis
A Life Resource Analysis is our most comprehensive approach to providing aging serniors guidance for their later years. If you go this route, we encourage you charge a fee. Each Analysis is made by gathering relevant information from your client by using our intake documents and submitting them to us. We will create the Life Resource Analysis for $95.00 and email you a PDF of the Analysis for you to place in a binder and present to your client.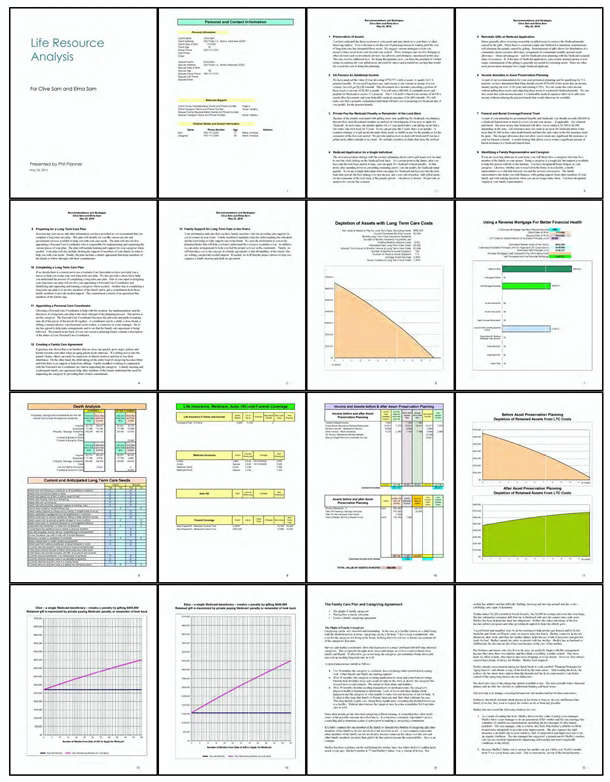 7. Want more detail?
If the above explanation wasn't detailed enough, we invite you to read this:
How to Use the Planning System to Produce Printable or Online Planning Reports (PDF)
Hopefully it will answer your more specific questions. If not, call us. We would be glad to chat with you.