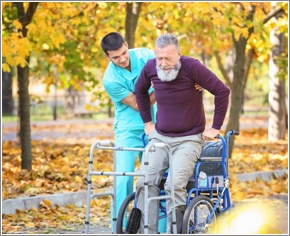 Other terms used for this type of care are: Adult day care, adult day centers, adult day care center, adult day health, adult day services, adult day health services, adult day residential care and medical adult day care services.
Adult day care services have been around for about 30 years. According to the National Adult Day Services Association (NADSA) there are more than 7,500 Adult Day Services centers across the United States, Adult Day Services and adult day health care are a growing source of long-term care. Adult day programs serve as an emerging provider of transitional care and short-term rehabilitation following hospital discharge.
Let's talk a little bit about what adult day care is and then try and figure out why it is not being used more.
The original concept was to provide a "sitting service" as it were to provide activities and stimulation for care-recipients in an environment outside of the home. The care-recipient would receive supervision and possibly some limited care while the caregiver would have a break from the routine of daily caregiving. This could give the caregiver needed time for herself and some peace and quiet to relieve the stress of caregiving. The care center might also offer transportation at an additional cost to transport the loved one to and from the center.
This model of service is still around but our guess is in order to stay in business these providers had to find a way to get the government to participate in the cost. There are now basically three types of models for adult day care.
The traditional model with social services, activities, crafts and some individual attention from workers
The medical model with services above but also skilled services from nurses, therapists, social workers, psychiatrists, geriatric physicians and others
The Alzheimer's model with services specifically designed to support and care for Alzheimer's patients
The term "Adult Day Health Care" is the title most commonly used to license the second two models above. The difference from the first model lies in the offering of health services. With the addition of the last two models, adult day care providers were able to tap into the Medicaid system and receive payments for services under special Medicaid programs or under Medicaid waiver programs for home care. Medicaid sees the advantage of these services as offering a rehabilitation and curative alternative to placing people in a nursing home. The objective is to keep people active and teach them skills to keep them out of an institution. At the same time Medicaid is offering rest to caregivers in the home by providing these services outside of the home.
The chart below was taken from data in the survey by Partners in Caregiving and it indicates percentage of providers offering services from the three models above. Notice that health-related services account for about 75% of care provided. It is our belief that in order to continue to expand and use government payments, almost all day care centers will have to convert to the health model. Medicare, starting in 2003 and continuing for three years, is also conducting a limited test using what it calls "Medical Adult Day Care Services". If the test is successful, Medicare, in the future, will use these services selectively in lieu of home health agency services for certain care settings.
Percentage of Adult Day Centers That Provide Specific Service
Type of Service
% Centers
Therapeutic Activities
97%
Personal Assistance
96%
Meals
84%
Social Services
82%
Health-related Services
74%
Medication Management
70%
Transportation
68%
Personal Care Services
64%
Caregiver Support Groups
60%
Rehabilitation Therapy
28%
Source: Partners in Caregiving, 2001-2002
Although it is an extremely valuable service and should be utilized more often, we don't have an answer as to why adult day care has not been more popular with caregivers. And we can find no data or studies on the subject. Here are some of our theories.
1. Care-recipients may not like the concept. Many recipients according to survey are afraid to leave their homes alone. They are afraid of a new environment outside of the home. They may also not like the type of activities and the other social events offered by the adult day center. We have experience in our own family with this attitude. Our own loved one did not like the adult day center we put her in. She absolutely refused to go after five visits. And the center where we put her has since gone out of business and in fact in our community there are very few adult day centers that have survived more than a few years

2. The cost might be a detriment to some caregivers. Daily use of an adult day center could cost about $300.00 a week. In addition some caregivers may have a reluctance to put their loved ones in adult day care. Perhaps they don't have trust in the provider or they may worry that their loved one might suffer in some way. We daily monitor the chat sites of caregivers around the country. It is interesting to note how many caregivers threaten their loved ones that they will put them in day care if they don't behave. This seems like a paradox since the day care center is supposed to be a benefit to the caregiver and the care-recipient. This theory may be the most plausible. Surveys show that families providing home care will buy services if a third party pays but otherwise try and provide the services themselves and save money.

3. Perhaps not enough caregivers or their families are familiar with the services of an adult day care provider. Maybe with a little more education, just as with care managers, more people would use the services of these providers.

4. Adult day care may be its own worst enemy. About half of all centers are nonprofit organizations. These may be sponsored by churches, community organizations or associations. Perhaps they don't survive by not charging enough for their services. But on the other hand, by charging more for services they may be turning away potential clients.