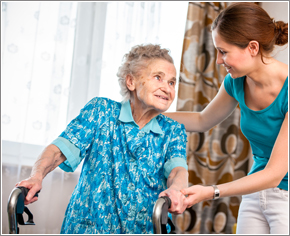 Estimates are that one out of four older Americans suffer from poor nutrition. Proper nutrition is important for an older person to remain healthy and functioning. Unfortunately, many older Americans aren't eating right. And for some older Americans it's not whether they are eating right or not but whether they are eating at all. Consider the following true examples
A man in his late 70s has four small cans of string beans and one pork chop--his food for the next two weeks.
An 80-year-old woman eats only half her meal at the senior center because she's made a pledge to feed a 90-year-old Asian couple who receive only a home-delivered lunch--her half-eaten lunch is their dinner.
An elderly widow must choose between buying winter boots and buying food--she buys the boots.
An 80-year-old woman was found alone and eating dog food before her neighbor brought her to an emergency food pantry.
An 82-year-old woman's grandson steals her money and her home-delivered meals.
Malnutrition occurs when a person doesn't consume adequate calories, protein, vitamins or minerals. Adequate calories and protein are necessary for overall good health, for maintaining activity and for tissue building, maintenance and repair. A balanced diet is necessary to provide essential vitamins and minerals for proper body functioning.
It is estimated that 30% to 50% of health problems in aging seniors are a result of poor nutrition. Surveys indicate that many of the elderly only consume 40% of the daily recommended calories and take in only about 60% of the recommended levels of vitamin A and E, calcium and zinc. A great deal of this deficiency is attributed to dietary restrictions for treatment of multiple chronic diseases. A survey of over 3,000 rural older adults found that nearly 44% were following a special diet related to a healthcare condition and these people were only consuming about 66% of their recommended daily calories.
Ironically malnutrition is more prevalent among the elderly living in long-term care settings or staying for long periods in hospitals. This is surprising, because it is assumed those formal caregivers providing care in these facilities are making sure that their residents or patients are adequately fed. Apparently, this is not happening. One study found that for elderly under the supervision of healthcare professionals, 97% were either under-nourished or suffering from malnutrition, but only 19% of these people were recognized by the health care professionals as needing more nutrition. Another study of geriatric rehab patients found that 81% of these patients were at risk for under-nutrition and 13% were significantly malnourished.
The problem is not just confined to the United States. Unrecognized malnutrition was detected in 60% to 85% of patients in British hospitals, 64% in a Norwegian hospital and 73% in a hospital in Singapore.
The bottom line is that healthcare professionals are not doing proper assessments of nutritional needs for elderly people in their charge. Many of these older people are falling through the cracks and as a result are not as healthy as they should be.
Malnutrition can be both a cause for bad health and at the same time a result of bad health. Serious consequences can result from unattended malnutrition. These include the following.
impairment of the immune system
delayed wound healing
more infections
weight loss and decreased muscle strength resulting in greater inactivity
altered body response to medications
mental confusion and disorientation
longer hospital stays
electrolyte imbalances
altered skin integrity
anemia
sensory loss
dry and red eyes
receding gums and loss of teeth
motor weakness and fatigue leading to fall risk
Malnutrition results in more visits to physicians, hospitals and emergency rooms. Malnourished patients stay in the hospital twice as long as those who are well-nourished, and readmissions are more frequent for malnourished patients. In fact, nutritional risk has been found to be the most important predictor of hospital visits, visits to the emergency room and visits to physicians.
For some older individuals, who have severe chronic conditions, improved nutrition has not been found to reverse those conditions. In other cases, better nutrition can help. Pressure sores for bedridden individuals respond well to better nutrition. Improved nutrition can sometimes alter the course of osteoporosis which is a major problem with many older people. Rates of healing from bone fractures are improved with better nutrition. Older clients receiving home delivered meals are reported to have fewer hospitalizations and fewer deaths compared with those who do not have this service.