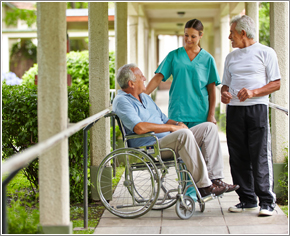 Area agencies on aging are the designated managers for state service and planning areas. A service and planning area is a geographic area of the state with more than 100,000 people and containing a significant number of elderly over the age of 60 that can be effectively served by the area agency under the Older Americans Act. The following can be designated as an area agency on aging to manage a service and planning area:
An already established entity that is meeting the requirements of the state.
A city, a county, a council of government or a regional planning commission in the service and planning area where the elected official in charge has designated an agency or office in its government organization to act as an area agency on aging.
A public or nonprofit private agency in a planning and service area which can meet the requirements from the state as an area agency on aging.
Any of these organizations must be able to meet the statutory requirements and state requirements and operate as an area agency on aging.
In many states, area agencies on aging operate as an office of a county and county employees are used to run the organization. In large urban areas cities may manage an area. In areas that are sparsely populated, area agencies may operate under a regional planning commission or a council of government with multi-county employees or with a nonprofit company providing the management.
A number of states have chosen to divide their states into multi-county regions or service areas. Where none of these natural subdivisions fit, a large rural area may be defined as a service and planning area and receive a suitable name to identify it. Where county or city governments are unwilling or unable to provide management, a number of states have chosen to contract with nonprofit organizations to run those particular area agencies in their states. Of the 655 AAAs across the country, approximately 67 percent are public agencies such as cities, counties, councils of government or regional planning commissions and 33 percent are private, non-profit organizations.
Area agencies do not always call themselves an "area agency on aging" and may use other names to identify themselves. Many nonprofits that receive their operating funds from state aging units typically use their nonprofit name instead of identifying themselves as an area agency on aging. Large county and large city AAA's often disguise themselves under government designated aging departments. States divided into multi-county regions may identify themselves as region one or planning area 2 and so forth. These many name conventions can be confusing to the public since using another name may not alert seniors or their families to the services they would expect under the Older Americans Act, national aging network. On the other hand, many nonprofit agencies that except money under the older
Americans act and operate service areas are required to offer the same services as government-sponsored agencies. Here are some examples of some of the names.
Northwest Alabama Council of Local Governments
Southern Alabama Regional Council on Aging
South Alabama Regional Planning Commission
Middle Alabama Area Agency on Aging Central
Alabama Aging Consortium
Division of Aging and Community Services/Aging and Adult Administration - Regions 1 to 8
IMAAA/IMSP
Central Coast Commission for Senior Citizens
San Francisco Department of Aging and Adult Services
Los Angeles City Department of Aging
Los Angeles County Aging and Adult Services
Denver Regional Council of Governments Aging Services Division
South-Central Colorado Seniors, Inc.
Senior Resources
Senior Resource Alliance
Alliance for Aging
Southern Crescent Region
Metro Atlanta Region Commission
Heart of Georgia Region
Chicago Department on Aging
Northwest Indiana Community
Action Corp.
REAL Services, Inc.
Aging and In-Home Services of Northeast Indiana, Inc.
Senior Spectrum
(and the list goes on and on)
The older Americans act funding is not the only source of money for area agencies on aging. Agencies may also manage other government programs such as Medicaid waivers for home care, social service block grants, transportation programs and other state home care service programs.
Currently about two thirds of all Medicaid home and community waivers are managed by area agencies on aging. Many agencies may have 10 or more different government funding sources for programs under their management. Nonprofit organizations acting as area agencies on aging may also be receiving community donations as well. And on the other hand, many nonprofits who are not area agencies may be accepting funding under the Older Americans Act to furnish programs such as community meals or homes served meals.
How Services Are Provided
Area agencies normally contract with local for profit or nonprofit or public providers to deliver benefits. The 29,000 contract service providers nationwide, providing care under the act, are the largest single network of long-term care providers in the country. An agency may be allowed to provide directly, supportive services, nutrition services, or in-home services if it can prove a case for providing these services more effectively.
An agency may also provide directly, case management services and information and assistance services depending on the methods used for such services in that state. Much of the work performed for area agencies on aging comes from 500,000 dedicated volunteers nationwide who are both individuals and employer sponsored teams.
The typical beneficiary served by an area agency on aging is a woman over age 75, with limitations in activities of daily living, such as bathing, eating and dressing. AAAs throughout the country find that they are working more and more with vulnerable and "hard-to-reach" populations, as well as persons with chronic disabilities of all ages.
Targeting and Outreach Programs
Area agencies on aging are required to design programs to identify and service those older Americans in the community most in need. Programs are designed to "reach out" and identify those people who are in need. Generally area agencies do not advertise or use mass media to locate people needing their services. This may be due to the fact that advertising would be very costly and it may also have the inadvertent effect of bringing in people who are not considered needy. The fact remains that many needy older Americans, those who have low income or are disadvantaged, simply do not know about the services of area agencies on aging. This presents a constant and ongoing dilemma for area agencies because many people in need may be falling through the cracks.
Most people are attracted to aging services by referral. These referrals may come from doctor's offices, senior centers, government agencies who service the elderly, home health agencies, home delivered meals programs, senior fairs, seminars and from a host of other providers who rub shoulders with elderly Americans. It is a constant challenge for agencies to develop adequate outreach programs and there is constant pressure from state and federal administrators to not leave anyone behind.
Another challenge posed for area agencies on aging is being able to bring to bear all the services necessary to help older Americans in need. Some programs such as protective services, community meal programs and legal help must be provided to all Americans over the age of 60 on a first-come, first-serve basis. On the other hand, there is never enough funding to provide help for all Americans in the area of supportive services and caregiver support. Targeting scarce funds to those most in need is a particular challenge for many area agencies on aging. This often means that some people requesting services may not be able to receive those services because they have too much income or they are not identified as someone having a pressing social need.