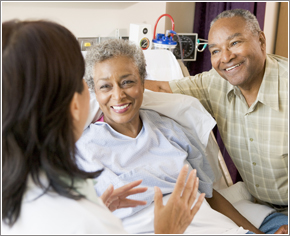 Care Management
This service helps seniors find in-home services and care providers to allow them to live independently for as long as possible, preventing premature nursing home placement. A care manager provides a health, social, and functional assessment and helps plan for needed services such as:
coordination of in-home services;
on-going monitoring and follow-up;
long term care facility information.
Chore Services for the Elderly and Disabled
Volunteers or homecare agencies supply workers to perform light housekeeping, laundry, shopping assistance, cooking, minor home repair, respite, yard maintenance, errands and, occasionally, transportation. The purpose of the program is to help people stay at home safely and independently. The Chore Service Program also provides jobs for local workers. Client contributions are supplemented by a federal grant as well as donations from towns, churches, charitable funds and individuals so that the program can remain affordable for our target population of fixed low-income families.
Client contributions often supplement the budget. Services are free for low income or other qualifying individuals. Services may be free in some areas for people with disabilities regardless of income. In some areas, individuals with higher income may be asked to share in the cost.
Many communities utilize volunteer services for this program. The services are provided at no charge and serve as a safety net for those individuals who cannot afford to pay for assistance and do not qualify for paid chore assistance. Volunteers generally provide 2-8 hours per month assisting their neighbors depending on their schedules and availability. Since a volunteer helps the same person each week, lasting friendships often form. Volunteers receive training, mileage reimbursement and insurance to assist them in their volunteer commitment. Families and couples can volunteer together. Students and retirees also serve as volunteers. Youth under 16 years of age must be accompanied by an adult.
Various church organizations also organize members to help people or disabled elderly people in their community.
Emergency Response System
Various community organizations, area agencies on aging as well as grants from the government can make emergency response systems available for persons who can benefit from the security of the system.
Family Caregiver Support Program
This program was added to the Older Americans Act in the revision of 2000. These services have experienced the largest year-to-year increase of any services under this act and are currently at about $162 million. Proposals for the year 2006 are for $250 million of funding. States are required to chip in an additional 25% in matching funds. It is apparent the aging network has put a huge priority on supporting family caregivers.
About 10% of the funds are earmarked to support a grandparent or older individual, 60 years of age or older, who is the primary caregiver of a grandchild or a child directly related by blood or marriage. Many older people are caring for their grandchildren or other children in the family because the parents are either unwilling or unable to do so. There is a proposal in the upcoming revision of the act to also support older adult caregivers for anyone related by blood or marriage not just for minors. Many parents are still caring for their grown developmentally disabled or mentally retarded children. They need support as well.
The term ''family caregiver'' means an adult family member, or another individual, who provides informal care in the home or in the community for an older individual. The act defines the following services for family caregivers to be provided by a state program, a local area agency on aging or by a contract service provider.
Assistance to caregivers in gaining access to the services;
Individual counseling, organization of support groups, and caregiver training to caregivers to assist the caregivers in making decisions and solving problems relating to their caregiving roles;
Respite care to enable caregivers to be temporarily relieved from their caregiving responsibilities; (Some states are providing a certain number of hours of respite care per year for all caregivers on a first-come first-served basis.)
Supplemental services, on a limited basis, to complement the care provided by caregivers. (Operating practices are to use about 20% of available funds for these services)
Family caregivers are the bedrock of America's long term care system and come from all walks of life. Every day they assist relatives and loved ones with tasks ranging from simple supports such as helping with household chores such as cooking and cleaning, to complex care such as bathing, dressing, and moving around the home, and lifesaving measures such as administering medications and monitoring side-effects.
Family caregivers may be adult children caring for their parents, grandparents raising their grandchildren, or families looking after children and adults with physical disabilities. Caregivers are devoted spouses, parents, and children as well as nurses, home health aides, paralegals, and financial advisors for their loved ones. National research has shown that caregivers are everywhere and their numbers are growing. For example:
66% of older persons with chronic disabilities are cared for by a family member.
65 million people provide care for a clinically ill, disabled, or aged family member or friend each year.
471,000 grandparents over 65 years old have primary responsibility for their grandchildren.
Although most caregivers view their work as rewarding, many experience significant stress and negative health impacts. To help alleviate the toll of caregiving, family caregivers need supports and services that safeguard their health and emotional well-being while relieving some of the financial burdens that often accompany caregiving duties.
As a result of years of planning, infrastructure development, and program design and implementation, The Administration on Aging and the Aging Network provide a comprehensive array of programs and supports to family caregivers. Over the past ten years, the NFCSP and other caregiver support programs have assisted millions of caregivers and their family members.
Because of federal guidelines, the services offered under this program are surprisingly uniform from state to state. Some states will blend additional funding and offer additional services beyond the requirements of the program. In most states, Medicaid funds are also used in conjunction with supporting these services. The local area agency on aging is typically given responsibility for managing the program. Here is a summary of typical programs offered.
adult day care
in-home care
respite care
counseling education and training
information and assistance
support groups
care management
transportation
assistive technology
home modifications and repairs
Care providers must typically be age 18 and older. Care recipient must be age 60 and older and typically unable to perform 2 or more activities of daily living or require supervision because of dementia. Funding is often limited in the number of hours provided per year or the amount of money provided per year. Not all states put caps on these services.
Other Caregiver Respite Programs
Some states have respite programs and other support for caregivers funded by a combination of state and local taxes, Medicaid and grants.
Caregiver Support Funded by Medicaid
A variety of caregiver services similar to those provided by the caregiver support program under the Older Americans Act are provided by Medicaid. Recipients must meet either the state home and community-based services waiver requirements for Medicaid or nursing home Medicaid requirements before receiving help. Care recipients must typically be age 65 or older and caregivers must be 18 or older. There are often caps on the service either dollar-wise or in the number of hours per week, month or year. Some states do not have caps on services provided.
Grandparent or Other Relative Caregiver Support Funded by the Older Americans Act
Respite care and other support services designed to address the needs of grandparent or other relative caregivers of children. Grandparent or other relative caregivers must be a minimum of age 60 and caring for a child age 18 or younger.
Consumer Direction (Self-Directed Funding)
Many states have adopted this philosophy which is being promoted by Medicaid. The services listed above may be offered as a menu and combined to meet the needs of the families as necessary. The state will also provide vouchers or budgets for the family to purchase the services directly under supervision of a case manager. On the Medicaid side, some states will allow family members to be paid as caregivers from a monthly budget under supervision.
Foster Grandparents
If you're 55 and want to share your experience and compassion, you have what it takes to be a Foster Grandparent.
As a Foster Grandparent, you're a role model, a mentor, and a friend. Serving at one of thousands of local organizations - including faith-based groups, Head Start Centers, schools, and other youth facilities - you help children learn to read, provide one-on-one tutoring, and guide children at a critical time in their lives. Put simply, you give the kind of comfort and love that sets a child on the path toward a successful future.
Foster Grandparents serve up to 40 hours per week. Some volunteers may qualify to earn a tax-free, hourly stipend. With Foster Grandparents, you'll receive pre-service orientation, training from the organization where you serve, and supplemental accident and liability insurance while on duty.
And remember: When you volunteer, you're not just helping others - you're helping yourself. Volunteering leads to new discoveries and new friends. Plus, studies show that volunteering helps you live longer and promotes a positive outlook on life.