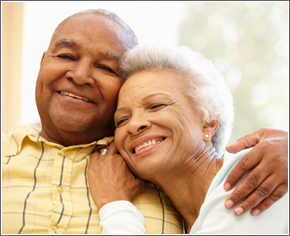 Continuing Care Retirement Communities
Continuing care retirement communities (CCRCs) or life care communities as they are often called, are popular with upper middle and higher income elders. Usually sponsored by a nonprofit organization or religious group, this living arrangement has a great deal of appeal to people who want upscale and stimulating living arrangements but are still concerned about the future need for long term care. Many of these communities are located in beautiful settings or in areas such as seacoast or mountains where there are plenty of outdoor activities.
Independent living, assisted living and a nursing home are found on site in a continuing care community. In addition, medical services, provided by a geriatric nurse practitioner or visiting doctor, may also be available in larger communities. Because of the increasing prevalence of Alzheimer's, more and more existing care communities are also offering special Alzheimer's wings. Residents of continuing care communities pay an upfront lump sum, cash payment and ongoing monthly living fees.
The original concept of a CCRC was to provide a guarantee to living quarters and long-term care services as long as the resident was alive. This in essence was a combined form of retirement and long term care insurance and the concept was to pay a large cash sum up front in order to fund a cash reserve to "insure" that a resident would receive the services promised at no additional cost in monthly fees. Some communities even had insurance companies underwrite this risk in the form of an insurance policy. Because of the emphasis on care for life these communities were often called life care communities. Over the years the guarantee of living arrangements and services has not worked as well as envisioned.
Today most continuing care communities still charge an upfront fee and monthly living fees but the guarantees with most communities only cover an assurance that a resident can have access to care on the premises and not have to move. With most communities the additional cost of long term care has to be covered out-of-pocket by the resident.
Continuing care communities today are most popular in the Northeast, along the Atlantic seaboard, in Florida, Texas, Oregon, Colorado and California. Such communities are generally very large complexes of high-rise apartments with scores of activities and amenities for their active adult residents. These complexes are tightly managed. Some CCRCs are affiliated with a specific ethnic, religious, or fraternal order, and membership in these organizations may be a requirement for entrance into the community.
Potential residents are carefully screened for good health and adequate savings and income. The majority of CCRCs require potential residents to have a medical examination to assess their physical and mental status. Selected pre-existing conditions may cause a CCRC to refuse an applicant. Some CCRCs require residents to have both Medicare Part A and B. Naturally, residents must be able to meet the entrance fee and monthly payments. People who do not qualify are not accepted.
You should apply while youíre still healthy. Even facilities that accept people who arenít healthy do so only on a space-available basis, with priority going to their own current residents. People who wait until their first health crisis to apply to a retirement community might not get in. The last can be a deal-killer. Many people are reluctant to leave their homes when theyíre still perfectly capable of living independently. As one retirement community executive put it: ďItís a major lifestyle change at a point in your life when change is not easy.Ē
The continuum of care in these communities is tightly structured and residents have a secure feeling that they will never have to leave the area again. This is probably the primary appeal of CCRC's today. This is also probably the reason that residents are still willing to pay large upfront fees in order to live in such communities as opposed to no upfront fees in combined care communities. In addition, CCRCs are most appealing to single people who have no family or who don't want to burden a family with their care and to married couples, who want to remain close to each other even if one moves into the facility's nursing home.
Some communities are still trying to offer guarantees, but communities will give residents choices depending on how much the president is willing to pay. Contract choices might include:
A so called "life care contract" that guarantees a continuum of care for a buy-in fee and the same continuing monthly fees regardless of the level of care needed. (This does not mean that inflationary increases in ongoing monthly fees cannot occur.) Very few residents can meet the high cost of this type of contract and very few complexes can meet the stringent state requirements for life care contracts.
The more common fee-for-service "continuing care contract" which covers shelter, residential services, and amenities. While emergency and short-term nursing care is usually included in the contract, access to long-term nursing care is guaranteed only at daily nursing care rates. Entrance and monthly fees are lower under this type of contract because residents are responsible for all long-term nursing and health care costs.
All communities have some form of a return of the living fee during a trial period. Some communities may also offer limited return of entrance fees if the resident dies too soon or under other special circumstances.
It is highly advisable to have an attorney review a CCRC contract before any commitment is made.
Below is a description taken from a sales brochure for a large Florida nonprofit corporation offering continuing care communities in a number of Florida locations:
As part of the Westminster Communities of St. Petersburg, Westminster Shores, along with Westminster Palms and Westminster Suncoast, are backed by Westminster Retirement Communities, one of Florida's oldest and largest not-for-profit senior housing and healthcare organizations.

Nestled on 75 acres of lush, wooded paradise, Westminster Woods is situated on the shores of Julington Creek, a half-mile wide arm of the St. Johns River. The community offers the benefits of a natural setting with the convenience of close proximity to Jacksonville's big-city amenities.

Residents of Westminster Manor pay an entrance fee upon move-in, and a monthly service fee. The entrance fee is a one-time payment that provides the following benefits:

Assures the resident of a home at the community
Guarantees priority admission to our assisted living and health care centers
Greatly reduces fees for convalescent care, assisted living, and health care
Gives an option for estate preservation by including several refund options
Gives the ability to finance the entrance fee at competitive rates.

The monthly service fee covers virtually all the costs of living in the community, and usually includes:

Daily meals
Utilities
Activities, programs, and entertainment
Limited convalescent care
Housekeeping services
Apartment or villa maintenance
Scheduled transportation
Security personnel
Parking
Clinic and wellness services
Cable television
Beauty Salon
Barber Shop
Chapel
Shuffleboard Courts
Croquet Courts
Resident Service Coordinator
Convenience Store
Putting Green
Library
Fireside/Game Room
Computer w/Internet
Here is another description:
Holladay Park Plaza is a high-rise in downtown Portland that features a gym, a spa, an indoor pool and an outdoor walking track to keep residents fit, along with a library, art studio and woodworking shop for pursuing hobbies. Thatís in addition to onsite services like a beauty parlor, a barber shop and a travel agency, plus shops and restaurants across the street at Portlandís Lloyd Center mall.
Below are some recommendations for people considering buying into a continuing care retirement community.
Take the CCRC's marketing tour and observe the upkeep and safety of the facility. Does it appear clean, and are the grounds kept up? Are there appropriate hand rails or grab rails in the bathing areas and hallways? Are the sprinkler systems and fire extinguishers easily accessible?
Verify the type of training given to the staff. Ask to see training policy and procedure manuals to make sure that the facility does indeed train the way it says it does.
Ask if the facility does national criminal background checks on staff. Some only do local or state background checks. Also, what type of pre-employment drug screening does it do, and is drug screening ongoing?
Compare staff numbers with other CCRCs you are considering, looking at the number of staff on each shift for the weekend and weekdays.
Find out about the types of food choices a facility offers and whether it is able to accommodate special dietary needs.
Be sure to ask about the reciprocal agreement that the CCRC has with other CCRCs for skilled nursing or assisted living wings within the communities, should those wings be full at the time a senior needs to make that transition.
Look at the range of activities on site and off site, and see if they meet the senior's needs. Are there activities off site at least twice a week? Does the facility offer activities such as religious services, lectures, discussion groups, and arts and crafts classes on site?
Inquire if a facility has a wellness center that can meet clinical needs such as memory impairment services or weight control and blood pressure checks. Also, how close is the nearest hospital in case of an emergency?
Continuing retirement communities arenít cheap. Most have hefty entry fees that typically range from $20,000 to $200,000 or more, depending on the size and location of the apartment or home you choose. Ongoing monthly fees might average about $2,000, although the toll can rise if the facility charges extra for medical care.
The community will want to make sure you can afford its ongoing costs, as well. Holladay Park Plaza in Pennsylvania likes to see applicants with assets equal to at least three times the entrance fee, which ranges from $44,000 to $200,000, and incomes at least twice the monthly fees, which range from $1,100 to $3,300.
Cornwall Manor in Cornwall, Pa., for example, charges $1,200 to $1,800 a month for its independent living apartments, depending on their size and location. Residents who need assisted living are charged an additional $88 to $155 a day, while nursing care runs $173 to $193 a day.