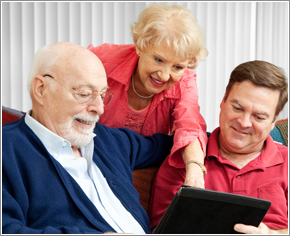 Insurance Specialists
Specialists in insurance have extensive knowledge in the products they offer and can give you the information you need for planning long term care.
Types of insurance specialists for long term care planning.
Life insurance
Long term care insurance
Medicare Advantage, supplement and drug plan specialists
Annuities
There are many reputable companies that provide these products. We advise you do some research, get referrals from friends that are satisfied with their agent and his or her products.
Financial Advisor
A financial planner or advisor, who works with the elderly, is going to understand how to manage assets for that age group. This person will also understand how to use assets and income when there is a need for long term care.
A financial adviser will work closely with an estate planning or elder law attorney to make sure all arrangements for the estate, for disability, for loss of capacity, for medical treatment, and for long term care are covered.
An elder financial adviser is also likely to work with a team of other eldercare providers or advisers such as care managers, pre-need funeral planners, long term care insurance specialists, reverse mortgage specialists and home health providers.
Services covered by a financial advisor:
Investment advice
Income tax
Retirement planning
Small business
Protection and insurance
Estate planning
Saving for education
Asset allocation
General financial planning
Reverse Mortgage Specialist
With most people, their home is their biggest investment. This one investment can provide the money you may need for your long term care planning. Reverse mortgages can be used for paying for long term care services, home repairs or alterations or just having money for wanted items.
When you have decided to obtain a reverse mortgage, you then must determine what type of loan to use. The U.S. Department of Housing and Urban Development's popular home-equity conversion mortgage (HECM) is insured by the federal government. The amount of loan you can obtain with HECM is determined by the FHA lending limit in your area. If you own a high-value house, you may be better off with a loan from Fannie Mae or from a private lender.
Because reverse mortgages may be confusing, you are required to meet with a counselor before you can apply and to be sure you understand the pros and cons as well as how the reverse mortgage works. A reverse mortgage is a major decision and the time spent with the counselor is well worth your peace of mind for your future.
A reverse mortgage specialist works in conjunction with a lending company. Some may be under contract with one company and others may offer services of multiple lending companies. A specialist usually only sells reverse mortgages and is expert in the rules and qualifications. A specialist will help you find the right mortgage for your needs and, set up your counseling appointment and complete the appraisal and necessary documents.