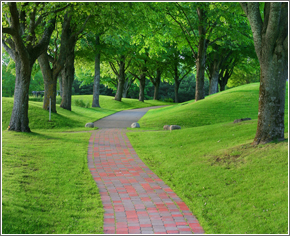 Probably the most common arrangement for closing out the life of a loved one is to have a funeral service and a burial in a local cemetery. Ostensibly funerals are touted as a way to honor the person who has passed away but in reality, funerals are for the surviving family. The funeral is part of the mourning process.
If the family has been proud of their loved one or if the loved one has had some standing in the community such as being a scholar, a doctor, a lawyer, a politician, a church leader or or in some other way famous, the family wants the community to recognize their family member. They want to "show off" the deceased. As a rule, the greater the status the more lavish the funeral. This recognition from the community and the emotional support from those who attend, in turn, help the family cope with the loss of their loved one. Here's an excerpt from the national Funeral Directors Association about funerals.
"Funerals fill an important role for those mourning the loss of a loved one. By providing surviving family members and friends a caring, supportive environment in which to share thoughts and feelings about the death, funerals are the first step in the healing process.
The ritual of attending a funeral service provides many benefits including:
Providing a social support system for the bereaved.
Helping the bereaved understand death is final and that death is part of life.
Integrating the bereaved back into the community.
Easing the transition to a new life after the death of a loved one.
Providing a safe haven for embracing and expressing pain.
Reaffirming one's relationship with the person who died.
Providing a time to say good-bye."
If the deceased person was not respected by the community or the family, it is less likely that a formal funeral service will be held. But it is also possible that regardless of the status of the person who has died, the family may not want a public viewing and service because they do not want the attention of the community. Oftentimes they will simply have a burial service at the grave site for a very select number of people. Or they may choose cremation and scatter the ashes in a private ceremony somewhere that would have been special to the person who died.
Consumer Protection
Concerns from consumer groups that funeral homes or undertakers were taking advantage of family and asking them to make purchase decisions when they were most vulnerable to manipulation, after the death of a loved one, led to the Federal Trade Commission publishing rules for the sale of funeral services.
The Funeral Rule prohibits specific misrepresentations in six areas (FTC 1997):
Embalming - Funeral homes may not tell consumers that embalming is required unless a specific state or local law requires it. In MOST STATES, embalming is not required by law.
Casket for Direct Cremation - Funeral homes cannot tell consumers that state or local law requires them to buy a casket if they are arranging a direct cremation for the cremation itself or for any other reason. An alternative container must also be made available.
Outer Burial Container - Funeral homes cannot tell consumers that they are required to buy an outer burial container, unless a specific state or local law requires it. They also must tell consumers that state law does not require them to purchase an outer burial container.
Legal and Cemetery Requirements - Funeral homes cannot tell consumers that any federal, state, or local law or particular cemetery or crematory requires them to buy a particular good or service, if that is not true.
Preservative and Protective Value Claims - Funeral homes cannot make any representations to consumers that funeral goods or services will delay the natural decomposition of human remains for a long term or an indefinite time.
Cash Advance Items - If funeral homes mark-up the charge on cash advance items or receive a commission, discount, or rebate that is not passed on to the consumer, they cannot state that the price charged for the cash advance item is the same as its true cost. This rule, however, does not prevent them from adding a service charge, nor does it require them to disclose the amount of that charge to the consumer.
Other Misrepresentations--other kinds of misrepresentations, though not specifically prohibited by the Funeral Rule, are nonetheless illegal. The FTC Act prohibits deceptive acts or practices. Likewise, the consumer protection laws of each state prohibit deceptive practices. The federal rule does not apply to businesses that sell funeral services only (cremation as an example) or goods only (caskets or grave markers as an example).
Funeral Home Services
In times past family organized the funeral and the burial themselves. An undertaker may have been used for preparing the body for burial, providing a casket and providing a hearse to transport the body to a cemetery. Modern day funeral homes have made the arrangements more convenient, but also much more expensive. The funeral home or funeral director can handle everything from
picking up the body after death,
securing the death certificate,
providing embalming,
providing restoration services,
printing funeral programs, sending invitations, providing guest books, etc.
providing space for viewings and funeral services,
submitting obituaries,
obtaining required permits,
making claim for Social Security or veterans benefits,
providing a casket,
securing cemetery lots,
providing outer burial chamber, liner or vault,
providing transportation to the cemetery,
moving the flowers from the funeral to the grave,
arranging for the opening of a grave,
making arrangements for a graveside burial service,
arranging for closing the grave
making arrangements for grave markers
and possibly more.
Any of these services might be bought separately and the family could make arrangements for the balance or forgo such things as viewings, embalming and restoration, but it is more common the family will buy a "full service package" which includes all or most of the services outlined above.
Generally family-owned funeral homes or mortuaries are in the business of providing trusted service to members of their community. There may be a few that take advantage but by and large integrity is an important part of most providers operations.
Funeral directors have responded to criticism of their industry of pushing people into expensive and elaborate funeral services by providing more of the low cost services some families may desire. Not only do they offer cremation or simple burial without trying to pressure families into more costly programs, but a recent trend has been to offer memorial services instead of an elaborate funeral. With a memorial service there is no viewing, no embalming, usually no flowers except maybe a few at the grave and there is a simple service designed to memorialize the departed loved one. The service can be held at the grave site or it can be held at a suitable meeting place later during the day or a few days following the burial. A memorial service can save considerable money over a traditional funeral.
Alternatives to Funeral Homes
Some groups feel that funeral directors monopolize the business of final arrangements for the dead and that they might be crowding out competition or influencing state legislatures to ban other types of similar services. The concern is that by discouraging competition, funeral homes can charge more money than is reasonable for their services. In fact eight states require using a mortuary for funeral arrangements if a casket is involved. In these states only funeral homes are allowed to sell caskets.
There is also concern that individual funeral homes are being purchased by large corporations and the public is not aware of this, since the original business name will be retained. As a general rule people have more trust in the local family-owned mortuary than in a faceless corporation. Funeral directors or morticians are often highly respected citizens in the community. By owning all of the funeral service providers in a given area, the corporation essentially has no competition from other homes and can charge higher prices for services.
The recommendation is to check prices and plans before picking a particular funeral provider. Federal law requires them to give consumers accurate, detailed and itemized quotes over the phone. In 42 states there are other alternatives to a funeral home or mortuary.
In those states where market forces prevail, a call to several funeral service providers in the area will demonstrate that the family may not have to pay $5,000-$10,000 for a funeral. Some competitive providers don't follow the funeral home model, with fancy showrooms, beautiful hallways, very expensive caskets and lavish chapels or meeting rooms. They simply provide the services such as placing the body in the casket and transporting it to a burial site or arranging for cremation. It is up to the family to take care of the rest of the details. These companies may provide help with organizing a funeral or in dealing with the cemetery but these businesses are more often oriented towards selling caskets at competitive prices and providing guidance with the rest of the final arrangements.
In fact some companies only sell caskets as the casket is usually the largest single cost of a funeral. The "funeral rule" requires funeral homes to accept caskets from any source, not just their own. So a family can save money purchasing a casket from a casket dealer and using a mortuary to provide the other services. Caskets can also be ordered over the Internet. There are also many local artisans that will fashion caskets and sell them directly to the public at very reasonable prices. A list of these can be found on the Internet by searching for "caskets".
Alternate providers of funeral items and services can be found in the Yellow Pages under the headings "funeral homes", "funeral information" or "funeral services". Many of these service providers may offer funeral services in the range of $1,500 to $3,000.
Memorial Societies
In response to what they consider abusive pricing in the funeral industry, some consumers have organized nonprofit memorial societies. There are memorial societies in most states and they can be located online by searching for "funeral homes" or "funeral information". These groups provide consumer counseling and written advice on alternatives to using high cost, funeral home "package" plans.
They will provide documents and instructions for preplanning funeral arrangements
They will provide reasons for not embalming.
They will provide lists of reliable and low cost undertaker services.
They will give reasons and instructions for cremation.
They will give advice on where to go for quality caskets or basic funeral plans at a reasonable price.
They will provide instructions on conducting memorial services instead of funerals.
They may provide numerous low cost package programs as an alternative to using a funeral director to arrange these options
Community Funds for Burial
Social Security will pay $255 to be used towards a burial. It's important to follow up and apply for Social Security burial benefits even though it's not a lot of money. The Veterans Administration will also provide cemetery space for veterans. If the veteran's family can't afford a cemetery plot the VA will provide one in a veteran's cemetery. The VA will also pay for opening and closing the grave, for a standard marker and for the burial itself.
Certain veterans receiving service-connected disability or whose death was the result of service or death in a VA hospital can receive either $1,000 from VA or $2,000 from VA towards burial depending on what caused the death.
Most states provide for final disposition of bodies of people who are indigent or whose families cannot afford a funeral. Some church organizations will also provide final arrangements for poor individuals. These services almost always require cremation.