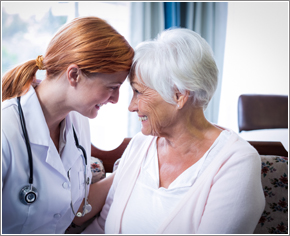 There are many private, religious, and government organizations across the country that provide supportive services for older people. Many of these services center around helping people stay in their homes and avoid having to live in an institution or perhaps move in with family. Because of the emphasis on helping people remain independent, many community aging programs could be viewed as long term care programs. Community services may provide socialization or service opportunities which might include:
Meals served at home or in community centers
Transportation and shopping for people who can't drive
Home repairs, yard work, telephone support, caregiver support
Private support groups in the community might include the Red Cross, United Way, women's auxiliaries or business groups. Many religious denominations support long term care services for their elderly members as well as nonmembers.
Both private and religious groups often provide services for free to people with little income and few assets. They may, however, charge people for services who have adequate income or assets. Check your phone book for local numbers for the Red Cross and United Way. Other listings may be under Community Services.
Administration on Aging
The Administration on Aging oversees a wide array of home and community based services for over 8 million elderly individuals each year, which is 17 percent of all people aged 60 and older - including 3 million individuals who require intensive services and meet the functional requirements for nursing home care. The agency also provides direct services to over 600,000 informal caregivers each year, who are struggling to keep their loved ones at home. This national aging network is the largest long term care provider network in the country.
There are 655 area agencies on aging in every state and territory of the United States. State aging units, under direction from the Administration on Aging, oversee and coordinate the activities of area agencies on aging in their states. Services are numerous but concentrate primarily on helping elderly people remain independent in the community, delaying the possibility that they will need help in a facility. Area agencies also support caregivers and coordinate Medicaid programs for home care and assisted living. Agencies also support caregivers and grandparents caring for their grandchildren. Here is a list of more common area agency on aging services.
Access Services such as transportation, outreach, information and assistance, case management, and so on
In-Home Services including homemaker and home health aides, home repair, snow removal, chore and maintenance, supportive services for families of older individuals who have Alzheimer's disease, and so on
Community Services such as adult day care, senior centers, legal assistance, recreation, and so on
Community Served Meals and meals on wheels
State aging departments and area agencies on aging offer limited free legal advice to qualifying persons under the Older Americans Act. The local area agency on aging has an advisory service for help with understanding Medicare, Medicare supplements, Medicare advantage, and Medicare Part D.
We will go into more detail on services offered by area agencies on aging below.
Eldercare Locator
1.800.677.1116
The Eldercare Locator is a national toll free referral number funded by the U.S. Administration on Aging. You can call this number with questions or needs, and they will direct you to a specialist in your area who can help you. They have information in all areas of aging services including help for caregivers. Eldercare Locator Information takes calls Monday to Friday, 9 a.m. to 8 p.m. Eastern Standard Time. Voice messaging is available 24 hours a day for you to leave a call back number.
Food Stamps (TANF)
Various food and nutrition programs to help low income individuals and families are available. You must meet certain eligibility requirements. One of the most familiar programs is the Food Stamp Program. To apply to the program, you can contact your local TANF (Food Stamp) office to set up an interview. You must qualify through income and asset tests.
Housing Assistance
Housing assistance programs help support and protect low income families, older Americans, and the disabled. You may seek advice from your local area agency on aging to find safer neighborhoods, low-cost housing, or services such as Meals-on-Wheels. There are government assistance housing options that include public housing, section 8 and housing choice vouchers, and section 202 housing support. The local city or county housing authority in your state, which administers housing and community development programs, is another resource for housing assistance. There are qualifying income and asset tests to qualify for housing assistance.
Low Income Energy Assistance Program
Your local Low Income Home Energy Assistance Program (LIHEAP) may be able to help you pay for your heating and/or cooling bills, or weatherization of your home. LIHEAP is a federally funded energy assistance program that is run by the nation's states and territories. You must apply for this program. Your area agency can help locate these services for you. There are qualifying income and asset tests.
Elder Abuse Services
All states have laws regarding the physical and sexual abuse of minors. Most states feel it is important to protect vulnerable adults from abuse as well. As a result, most states have passed legislation to protect older individuals, mentally incompetent adults and severely disabled adults from abuse.
Legal Assistance
The Older Americans Act requires state aging units and area agencies on aging to provide legal services for older Americans. There is also a requirement for the state to appoint a person known as a "legal assistance developer" to coordinate legal services in the state. The US Administration on Aging has also formed coalitions with various national groups to help states and local agencies implement legal services. Not only is there concern for the elderly about dealing with issues relating to estate planning, income and long-term care planning but there is a great deal of concern that the elderly may be vulnerable to exploitation by con artists and unscrupulous businesses.
The OAA specifically directs legal services for the following issues: income, health care, long-term care, nutrition, housing, utilities, protective services, defense of guardianship, abuse, neglect, and age discrimination.
There may only be enough money for most states to hire a legal assistance developer and other staff attorneys may only be possible for larger states. States and local area agencies on aging must rely on the volunteer services of the legal community. Some states and federal government agencies may also provide money for this program. Licensed attorneys may donate some of their time for assessments and law students may be used to help identify problems and offer solutions. Extensive legal help is only available without recipient out-of-pocket cost in a few cases.
Long-Term Care Ombudsman
A long-term care ombudsman is a sounding board for residents of long-term care facilities such as nursing homes, assisted living or board and care facilities. Residents or families of residents can contact an ombudsman if there is concern about services or treatment from staff in a facility. The ombudsman investigates and if necessary, resolves the problems.
Each state, under the older Americans Act, is required to have a state long-term care ombudsman program that is managed at the state level. About 38 states include the office of ombudsman under the state aging unit and 15 other states or territories manage the office under a different state agency or use a private contractor. The state office manages a corps of local volunteers who respond to complaints or, time allowing, visit with residents of long-term care facilities to gain feedback. In 2002 more than 261,000 complaints were handled by about 8,000 volunteer ombudsmen nationwide.
Health Insurance Counseling
Many elderly have difficulty understanding their Medicare coverage and many unscrupulous health care providers may be preying on the system by charging for services not actually provided. The elderly may also have questions about whether to buy Medicare supplement policies or buy into Medicare advantage plans. In the fall of 2005 Medicare is introducing part D, the new drug prescription program. The aging network has been given responsibility by the Centers for Medicare and Medicaid services to counsel the elderly about this program. The health insurance counseling services, typically coordinated at the state level, are designed to deal with these issues.
Senior Medicare Patrols
Administration on Aging grants to 47 states have provided seed money for volunteer programs to prevent Medicare fraud. The AoA maintains a web site to support this activity at http://www.aoa.gov/smp/grantee/grantee_state.asp
Here is a statement from the site detailing the purpose for the program.
"The U.S. General Accounting Office (GAO) estimates that billions of dollars are lost annually from the Medicare and Medicaid programs due to improper payments through error, fraud, or abuse. While the vast majority of health care providers are honest, the efforts of a small number of unscrupulous individuals are causing our health care programs to lose hundreds of millions of dollars per year and reducing the quality of care provided to many older and disabled Americans. Since 1997, the U.S. Administration on Aging (AoA) has worked in partnership with the Department of Health and Human Services' Office of Inspector General, the Centers for Medicare and Medicaid Services (formerly the Health Care Financing Administration), the Department of Justice, community-based grantees, retired professionals, service and health care providers, AARP, and other interested individuals and organizations to address this serious national problem."
In the initial phase of this initiative, known as ORT, $23 was returned in improper payments, fines and settlements for every dollar spent on the effort. Today, AoA (Administration on Aging) provides grants to community-based agencies in nearly every state to train volunteers how to educate Medicare and Medicaid beneficiaries and their families how to protect their Medicare number as they would their credit card, how to take a more active role in protecting their health care programs, and how to detect and report potential instances of error, fraud, and abuse.