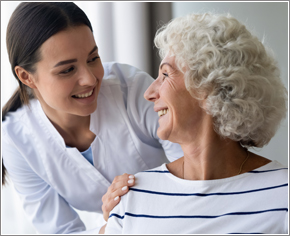 For the elderly, who need long term care services, the choice to stay in their home almost always requires some type of help and service from others. There are many options to choose from in home care and the choice is usually made by the degree of personal or medical need.
It is important to educate yourself on the types of home care services before choosing one. There are many different services becoming available, from licensed home care companies, house cleaning services and errand services to companion services.
State Licensed Home Health Agency
A home health agency that is a state licensed company and is Medicare certified is used for homebound patients requiring medical attention or physical therapy. You may be referred to this type of agency upon discharge from a nursing home rehabilitation stay or more likely by your doctor when the need arises for medical aid as well as personal aid in your home.
These companies must meet legal and operating standards set by the state department of health. Your local area on aging or health department can provide you with the names of home health agencies that are licensed and Medicare certified.
Home health agencies provide all medical personnel and services necessary for support in the home. Some of these are:
Registered Nurse or Licensed Practical Nurse
Physical, speech and occupational therapists
Social workers
Individual and family counseling
Medication training and compliance
Management of IVs, wound dressing
Blood pressure monitoring
Diet and meal planning
Bathing, dressing, light housekeeping
Most agencies hire, train, and supervise their personnel. They work with your doctor (or their doctor) in seeing you get the right medical treatment and supervision. They may also, as needed, secure the services of professionals such as infusion therapists or medical equipment companies. They can be your most valuable aid in staying in your home.
As an example, when Jill's mother broke her hip, she spent a week in the hospital recovering. When she was released, she still could not walk or take care of herself. As she was going home to live with Jill and not go to a nursing home for rehabilitation, her doctor prescribed a state licensed, Medicare home health service.
The home health care company worked with Jill to make her mother's room and living conditions comfortable. They secured an air bed that relieved the pressure from bed sores her mother had developed in the hospital. Nurses were assigned to come and treat her wounds. Aids came to bath, dress, and prepare her mom for the day and for night comfort. Even though her room was in Jill's home, they cleaned it and changed her bed daily. They worked with Jill on diet and medications. A physical therapist came in once a week to work with her mother's mobility. And an occupational therapist came in to help with ways to transfer, use the toilet and so forth.
Jill's mother was soon able to sit in a chair and walk without help. The support from the home health care agency made it possible for Jill to have her mother stay in her home until her death and relieved much of the burden of caregiving. Medicare paid for almost all of it.
Another bonus from the professional companies is that they take care of the paper work, taxes, Medicare forms, etc. Also, they make sure that the people show up to do their job.
Non-Medical Home Care Services
These providers represent a rapidly growing trend to allow people needing help with long term care to remain in their homes or in the community instead of going to a care facility.
companionship
grooming and dressing
recreational activities
incontinent care
handyman services
teeth brushing
medication reminders
bathing or showering
light housekeeping
meal preparation
respite for family caregivers
errands and shopping
reading email or letters
overseeing home deliveries
dealing with vendors
transportation services
changing linens
laundry and ironing
organizing closets
care of house plants
24-hour emergency response
family counseling
phone call checks
Non-medical home care companies are different from traditional home health agencies in that they do not provide medical services or skilled services and they are not paid by Medicare.
In addition, many states do not require non-medical home care providers to license with the state health department. In some states a person desiring to start a business like this need only advertise, get a business license, and start hiring employees.
On the other hand, some states require these companies to meet the same stringent rules under which traditional home health agencies operate. This might include hiring trained employees, the use of care plans, periodic inspections by the state health department, and bonding.
If you live in a state that does not require regulation of these companies, it is important for you to rely on the advice of your care manager to find those providers that are reputable and provide proper services.
Non-medical home care services are paid for out-of-pocket, and in some cases by long term care insurance and Medicaid.
Privately Hired Assistant
Hiring someone to live in the home to provide 24-hour companionship or hiring a nonlicensed individual to come in daily to provide services, is another way to secure home care.
It is important to note that unlike professional home care agencies, individuals from the community do not need to be licensed by the state or be Medicare approved. You will be paying for these services yourself. You will need to do the investigating of the individual to secure someone honest, moral, and capable of performing the service you want. Where a home care agency makes sure their people will show up, if the person you have hired is ill or takes a vacation, you will be without that person.
Since you are paying a wage, you will also be responsible for taxes. These people will be on your payroll as you are their employer. The IRS has special instructions and forms to help you pay the taxes for home-based employees. A member of the life resource planning team will help you with this tax requirement.
Home Telehealth
Technology has developed computer and computer cameras to help the elderly in their homes stay safe and healthy. Home telehealth--set up by medical professionals in the home--enables providers to monitor such things as medications and blood pressure and see the patient. Patient questions are answered and advice is given, while the monitoring nurse views through the face-to-face program.
Home telehealth is used primarily in rural areas where long distances make visits by home care providers difficult on a regular basis. On the other hand, telehealth compensates for fewer visits by allowing these providers close monitoring and contact on a daily basis.
Payment by Medicare and Medicaid for this service is determined by each state and the rules of eligibility under homecare waivers.