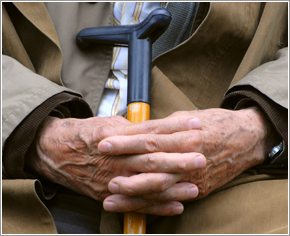 Legal Services
This is for persons age 60 and over and their spouses. Legal volunteers at senior centers provide assistance with simple wills, powers of attorney for health care, living wills, durable powers of attorney and so on. State aging units legal service concentrate more on immediate threats to income, shelter, patients' rights and health matters.
The Older Americans Act requires state aging units and area agencies on aging to provide legal services for older Americans. There is also a requirement for the state to appoint a person known as a "legal assistance developer" to coordinate legal services in the state. The administration on aging has also formed coalitions with various national groups to help states and local agencies implement legal services. Not only is there concern for the elderly about dealing with issues relating to estate planning, income and long-term care planning but there is a great deal of concern that the elderly may be vulnerable to exploitation by con artists and unscrupulous businesses. The OAA specifically directs legal services for the following issues:
income,
health care,
long-term care,
nutrition, housing,
utilities, protective services,
defense of guardianship,
abuse,
neglect, and
age discrimination.
There may only be enough money for most states to hire a legal assistance developer and other staff attorneys may only be possible for larger states. States and local area agencies on aging must rely on the volunteer services of the legal community. Some states and federal government agencies may also provide money for this program. Licensed attorneys may donate some of their time for assessments and law students may be used to help identify problems and offer solutions. Extensive legal help is only available without recipient out-of-pocket cost in a few cases.
Loaning of Durable Medical Equipment
A number of organizations as well as agencies on aging provide medical equipment for short-term loan. Here is a list, for example, in the Denver area of loaning organizations.
American Legion 4760 N 28th Boulder, 80301 303-442-9551
American Legion 315 S Bowen Longmont, 80501 303-776-2034
American Legion (Short-term for Veterans & Family) 155 Van Gordon #364 Lakewood,CO 80228 303-914-5585
Assistance League of Denver 1400 Josephine Denver,CO 80206 303-322-1688
Association of Senior Citizens 2839 W 44th Ave Denver,CO 80211 303-455-9642
Boulder Elks Lodge #566 3975 28th Boulder, 80301 303-442-5003
Boulder Senior Services West Center 909 Arapahoe Ave Boulder, 80302 303-441-3148
Broomfield Community Center (Broomfield residents only) 280 Lamar St Broomfield,CO 80030 303-464-5526
Carbon Valley Recreation District 701 5th Street Frederick, 80530 303-833-3660
Clements Senior Center 1580 Yarrow St Lakewood,CO 80214 303-987-4820
Colorado Easter Seal Society 5755 W Alameda Ave Lakewood,CO 80226 303-233-1666
Connections for Independent Living 1024 9th Ave, Ste E Greeley, 80631 970-352-8682
Disabled Resource Services 424 Pine St Ste 101 Fort Collins, 970-482-2700
Disabled Resource Services 640 E Eisenhower Ste E Loveland, 80537 970-667-0816
Dominican Sisters Home Health Agency 2501 Gaylord Denver, 80205 303-322-1413 x18
Lafayette Senior Center 103 S Iowa Ave Lafayette, 80026 303-665-9052
Longmont Elks Club 306 Coffman Longmont, 80501 303-776-1055
Louisville Senior Center 900 W Via Appia Louisville, 80027 303-335-4914
Moose Lodge 2200 Pratt Longmont, 80501 303-776-4911
Quota Club of Estes Park at Estes Park Medical Center 555 Prospect Ave Estes Park, 80517 970-586-2317
Senior Hub 2360 W 90th Ave Denver,CO 80260 303-426-4408
Veterans of Foreign War Auxillary- Loveland 305 Cleveland Loveland,Colorado 80537 970 667-4722
VFW 105 West Emma Lafayette, 80026 303-665-9993
VFW 206 S Main Longmont, 80501 303-776-8590
Volunteers In Action (Low Income) 9185 E Kenyon #130 Denver,CO 80237 303-713-9144
Ombudsman
A long-term care ombudsman is a sounding board for residents of long term care facilities such as nursing homes, assisted living or board and care facilities. Residents or families of residents can contact an ombudsman if there is concern about services or treatment from staff in a facility. The ombudsman investigates and if necessary resolves the problems.
Each state, under the Older Americans Act, is required to have a state long term care ombudsman program that is managed at the state level. About 38 states include the office of ombudsman under the state aging unit and 15 other states or territories manage the office under a different state agency or use a private contractor. The state office manages a corps of local volunteers who respond to complaints or, time allowing, visit with residents of long-term care facilities to gain feedback. In 2002 more than 261,000 complaints were handled by about 8,000 volunteer ombudsmen nationwide.
Senior Volunteer Programs
The Corporation for National and Community Service has many programs. One of them is Senior Corps, which is divided into Foster Grandparents program, RSVP (Retired Senior Volunteer Program) and Senior Companion program. There are also three AmeriCorps programs: State and National, VISTA, NCCC ((National Civilian Community Corps) and other programs like Learn and Serve America (www.learnandserve.gov) for young people and United We Serve (serve.gov). Also the Corporation for National and Community Service (going to be referred as the Corporation in this text) has set partnerships with private volunteer organizations like Red Cross, Salvation Army and Volunteers of America. The Corporation provides federal grants to volunteering organizations, which match grants with own funds in certain percentage.
Senior Corps received in 2000-2003, $778 million for its programs. The Senior Companion programs got $167 million, which it matched with $107 million dollars. The RSVP got $201 million, which it matched with $197 million. And Grandparent volunteer organizations received $410 million and matched it with $158 million. Also other programs besides Senior Corps are funded by the Corporation for National and Community Service. In 2000-2003 AmeriCorps grants were $1.03 billion.
Senior Corps cooperates with other volunteers programs. For example RSVP finds volunteers to all Corporation programs and its partnership programs. In 2006 there were 62,600 organizations using RSVP volunteers. It links different organizations to local organizations. Its web page lists local organizations and searches specific types of volunteer work for potential volunteers. Disaster recovery programs for example need seniors as well as younger volunteers organized and trained for catastrophic events like the Gulf oil spill.
According to the Senior Corps Fact Sheet volunteering is increasing in America. New expected resource for volunteering is the baby boom generation. But also American youth is involved in community service and volunteering.
Self-Help and Support Groups
These are autonomous groups of individuals who share a common problem or concern. Members of these groups meet voluntarily for mutual support. Members share their experiences, strengths, and hopes, and rely on one another for assistance.
Self-help groups include professionally facilitated groups, structured 12-step with or without professional participation, and groups with no professional participation or specifically structured format.
Listings of self-help groups also may be found in local online searches.
Respite Care
Respite care provides short term breaks that relieve stress, restore energy, and promote balance in your life. Working with family members or friends may be difficult, but there are many respite care options and strategies that you may not be aware of.
Seeking support and maintaining one's own health are key to managing the caregiving years. Using respite care before you become exhausted, isolated, or overwhelmed is ideal, but just anticipating regular relief can become a lifesaver.
Respite can take many forms, but boils down to two basic ideas: sharing the responsibility for caregiving and getting support for yourself. Finding the right balance requires persistence, patience, and preparation.
The National Caregiver Support Program provides respite care under certain conditions. For those individuals who do not meet the requirements for that program, there may be other community options available, including volunteers. Here are just a few.
The VA provides inpatient respite coverage for up to 30 days per year for qualified veterans. In addition, when war-time vets care for their spouses, funding for in-home services are available on a state-by-state basis.
Private foundations, such as The Robert Wood Johnson Foundation and the Brookdale Foundation make grants to organizations that provide direct respite. These funds are usually awarded annually and posted on foundation websites.
The United Way, the Alzheimer's Association, and other disability-specific organizations may offer respite money in your area.
Agency care specialists can assist in finding additional resources.
Senior Care Options
Provides a nursing facility preadmission screening to ensure Medicaid applicants in need of nursing facility care receive information on alternative choices to their level of care and assistance in finding and setting up the services needed.
Senior Companion
The SENIOR COMPANION Program provides individuals with special needs assistance in their homes or a facility; Companions receive a tax-free stipend of $2.70/hour and other benefits; must meet income guidelines.
IRS Tax Counseling for the Elderly
TCE offers FREE tax help to individuals who are aged 60 or older. Trained volunteers from non-profit organizations provide free tax counseling and basic income tax return preparation for senior citizens. Volunteers who provide tax counseling are often retired individuals associated with nonprofit organizations that receive grants from the IRS. This cooperative agreement is authorized by Section 163 of the Revenue Act of 1978, Public Law No. 95-600, 92 Stat. 2810, November 6, 1978.
This Act authorizes the Internal Revenue Service to enter into agreements with private or nongovernmental public non-profit agencies or organizations, exempt under Section 501 of the Internal Revenue Code, that will provide training and technical assistance to elderly individuals in the preparation of their federal income tax returns. Grant funds are used to reimburse volunteers for out-of-pocket expenses including transportation, meals, and other expenses they incur in providing tax counseling assistance at locations convenient to taxpayers.
Tax-Aide Service
The American Association of Retired Persons (AARP) in cooperation with the IRS offers free nationwide income tax counseling for older people. The Tax-Aide Service is available to older persons with low or moderate incomes.
From late January until April 14, volunteers are available, by appointment, to assist in the preparation of Federal and New York State income tax returns. Tax-Aide sites are located throughout the county. By calling 211 you can make an appointment or learn about where sites are located.
Telephone Reassurance
Telephone reassurance systems, whether casual or formal, are a way for homebound individuals to stay in touch with the outside world, and for families to be reassured that their frail members are okay.
Some churches and other volunteer organizations have formal telephone reassurance programs. If a client does not answer the call, or sounds ill, the volunteer will ask a neighbor, a relative, or the police to check on the person.
In some counties, the Sheriff's Office provides a computer-operated program which calls a subscriber daily at a pre-arranged hour. The Are You O.K.? Program, is a safety program that targets vulnerable individuals who, in the event of illness, accidental injury, or crime, are in danger of being left unattended and unaided for a lengthy period of time. The program is a reassurance service that allows anyone who is elderly or disabled and living alone the certainty that they will be checked on each day.
Telephone reassurance is also offered by some private businesses, sometimes as part of a care management package of services.
Temporary Assistance for Needy Families
The TANF grant program will provide eligible families with a monthly cash payment to meet their basic needs.
Transportation for Disabled Seniors
Public transportation offers taxis and buses in most communities for at a discount for disabled seniors. While taxis can be more expensive, they are able to cater to independent needs. Buses usually run in most moderately sized communities, but getting to bus stops may be a problem for some elderly individuals.
Car pools are often available in certain close-knit communities and neighborhoods. Whether your parent lives at home or in an assisted living or retirement community, inquire with management regarding car pools that may be organized to help the former elderly driver get to their medical appointments, run shopping errands, or spend a few hours a day at community resource centers, meal programs, or volunteering at local hospitals or schools.
Family and friends are usually the first to help offer rides to the elderly, but such offers are usually catered around the driver's schedule and not the elderly parent. However, such transportation is free (in most cases, elderly parents offer to pay for gas) and when carefully catered to the needs of the elderly parent, can usually be worked out with a minimum of fuss.
Community services often offer transportation to area seniors in the form of vans that offer free or minimal-fee transportation to and from doctors' offices, grocery stores and other locations, depending on area. Many cities have set up public transportation services for the elderly and disabled, depending on whether the community is in aid and urban or rural setting.
In some cases, Medicaid covers non-emergency transportation such as scheduled doctors' visits, while Medicare typically only covers emergency medical transportation that requires 911 services. Caregivers of the elderly should check out the Older Americans Act, which grants funds to states for support of Area Agencies on Aging that offer resources to the elderly looking for alternative transportation means. The Americans with Disabilities Act also guarantees transportation services for many disabled seniors, often provided by local public transportation services or community para transit services.
Para Transit services in many local communities offer handicapped and wheelchair accessible vans that also offer curb to curb services along their routes. Caregivers and the elderly should check with their local Chambers of Commerce or Department of Human Health and Services or senior community resources to determine the availability of such modes of transportation in his or her community.
Senior centers often offer van service to and from the center for a nominal charge. In addition, veterans in the VA health care system often have access to van service to and from their medical appointments.
Volunteers
The national aging network relies heavily on volunteers to carry out its activities. More than 500,000 volunteers nationally help with all kinds of programs but primarily with the communal meal program. Volunteer services include individual counseling on health insurance and Medicare Prescription Drug Plan choices, meal delivery to the homebound elderly, program assistance at Division of Aging Services Friendship Centers, leadership of Brain Games and Senior Exercise Program, staffing the Senior Citizen I.D./Discount Card Program and tax assistance. Many volunteers come from civic minded businesses who want to help the elderly in the community.
Other community agencies train and coordinate volunteers in the provision of such services as friendly visiting, shopping, errands, advocacy, medical transportation, respite care, and Hospice care.
Hospitals depend heavily on volunteers, who assist with reception, run the gift shop, administer lending libraries, feed patients who cannot feed themselves, deliver patients to radiology or other diagnostic areas, and provide socialization and reassurance where needed.
Volunteer groups, such as Boy and Girl Scouts, church choirs, and clubs provide music, art, socialization, and recreational activities to patients in hospitals, nursing homes, and in day care centers.
Many fraternal organizations and church groups raise money which is used to provide small grants for household equipment and repairs or adaptations for people with health impairments.
Even the homebound or otherwise very frail can make phone calls or stuff envelopes for a not-for-profit agency. Many otherwise lonely elderly benefit greatly from opportunities to be friendly visitors, Foster Grandparents, or mentors serving in schools or businesses.
Handyman Services
Many community organizations help with major repairs to the home beyond what chore services can provide. Generally there is no grant money available for this type of service except for the loans and limited low income grants mentioned in the section above. For most seniors, this cost will be out of pocket or the persons providing the services are often cost-free volunteers.