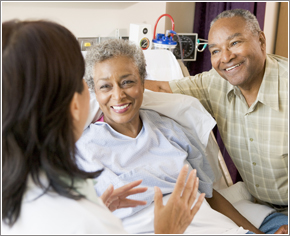 Medicare Nursing Home Coverage
Medicare is the vision and campaign promise of President John F. Kennedy to provide universal medical insurance to all aged Americans. His untimely death did not allow him to fulfill his promise, but President Lyndon Johnson was able to win passage of the plan in the form of amendments to the Social Security Act. Passed in 1965, Title VIII of the amendment established Medicare and Title IX established Medicaid.
Medicare Part A & B is now the health insurance plan for all eligible individuals age 65 and older and certain younger disabled persons. Because of its universal availability almost everyone over age 65 in this country is covered by Medicare. There are about 40 million Medicare beneficiaries nationwide.
Medicare will pay for 20 days of a skilled nursing care facility at full cost and the difference between $194.50 (twenty fourteen) per day and the actual cost for another 80 days. Private Medicare supplement insurance usually pays the deductible of 80 days at $194.50 per day if a person carries this insurance and the right policy form. However, Medicare often stops paying before reaching the full 100 days. When Medicare stops, so does the supplement coverage. The average paid Medicare nursing home stay was 23 days in 1997, only 1/5 of the allowable time. Nationwide, Medicare paid 12% of nursing home receipts in 1998.
To qualify for Medicare nursing home coverage, the individual must spend at least 3 full days in a hospital and must have a skilled nursing need and have a doctor order it. The transfer from a hospital must occur within a certain time period.
There is a misconception that Medicare automatically covers up to 100 days of most nursing home stays. Even though a large number of nursing home admissions come from hospitals, not all of these receive Medicare. Many are younger than 65 and not on Medicare. For those over 65, a hospital stay resulting in nursing home care does not automatically qualify for Medicare coverage. The stay may have been less than 3 full days or there may not be a skilled need. And as has already been pointed out, even if a person qualifies for Medicare coverage it is likely to be much less than 100 days. The average coverage is about 20 days.
Medicare will not pay nursing home costs for someone admitted from his or her home. Almost half of those admitted to nursing care come directly from home.
Medicare Advantage Plans cover nursing homes differently. Unlike traditional Medicare, most advantage plans don't require the 3 day stay in a hospital. The insurance company providing the advantage plan looks at each case and the sides whether nursing home coverage is needed whether from somewhere other than a hospital or from the hospital. In addition, the rules pertaining to 20 days and 100 days are not part of advantage plans. The insurance company will decide how many days it will authorize payment and sometimes co-pays are required from the very first day.
Medicare Home Care Coverage
Medicare is a principal provider of home health care and hospice care in the nation; although, there is now a growing trend for Medicaid to provide home care.
Home health care, instead of nursing care, is often used as an alternative for hospital patients recovering from hip or foot surgery, joint replacement or complications of diabetes. In addition, homebound patients not having spent time in a hospital, but suffering from congestive heart failure or other disabling conditions are sometimes covered with "episodes" at home.
Home care must be under a "plan of care" ordered by a doctor. There must be a skilled need requiring frequent visits by either a therapist, LPN or RN. Although allowed prior to 1997, blood draws are not covered. As part of the plan of care, aides may also be provided to help with bathing, dressing, transferring, toileting, incontinence or feeding. In addition, social services are often provided. The patient must be homebound, meaning it would be very difficult to leave the home during the period of recovery. Although, a recent ruling now allows Medicare home care patients to leave their home for therapy or treatment and still receive coverage. Medicare part B may also cover certain durable medical equipment for home care such as bed rails, walker, etc.
Under Medicare, a health agency is only reimbursed per patient for each 60 day episode. This does not mean care can be less or more than 60 days since the agency can schedule visits until the prospective payment runs out. There are provisions to cut off reimbursement if the patient recovers early, or to extend payment if the condition worsens. Recent complaints from the home health industry indicate that Prospective Payment is not covering actual care given.
Medicare advantage plans cover home care differently. As a general rule, as with nursing homes, the coverage under Medicare advantage plans is much more limited than under traditional Medicare.
Medicare Hospice
There are many decisions to be made when imminent death is approaching for a loved one. Questions regarding what type of care, medical assistance and even physical location for their last days confront us.
If care has been in the home, should loved ones be moved to a facility or remain at home? If in a care facility should they be moved home for their last days? Will 24-hour care become necessary and more medical assistance be required?
If you are asking these questions, a hospice service might be a good solution. Hospice can be provided to a person who has a life-limiting illness wherever that person lives. A nursing facility or long-term care facility can receive visits from hospice personnel in addition to the other care and services provided by the facility.
Hospice care is a special way of caring for a patient who is in the last stages of life. Hospice provides a team of professionals who aid the patient and family caregivers. This could include nurses, social workers, physicians, clergy and aides who all work together to plan and coordinate care, 24 hours a day or as needed.
The Hospice Foundation of America outlines the following services of hospice:
Hospice is a special concept of care designed to provide comfort and support to patients and their families when a life-limiting illness no longer responds to cure-oriented treatments.
Hospice care neither prolongs life nor hastens death. Hospice staff and volunteers offer a specialized knowledge of medical care, including pain management.
The goal of hospice care is to improve the quality of a patient's last days by offering comfort and dignity.
Hospice care is provided by a team-oriented group of specially trained professionals, volunteers and family members.
Hospice addresses all symptoms of a disease, with a special emphasis on controlling a patient's pain and discomfort.
Hospice deals with the emotional, social and spiritual impact of the disease on the patient and the patient's family and friends.
Hospice offers a variety of bereavement and counseling services to families before and after a patient's death.
To be eligible for hospice a physician must certify the patient to be terminally ill with a life expectancy of six months or less and treatment for a cure is no longer provided. The physician can also indicate that the patient is deteriorating and no longer thriving and this is an assumption of life expectancy of six months or less.
The focus for the patient has changed to supportive care and quality of remaining life. Hospice is paid for by private insurance, Medicare or Medicaid Hospice Benefit or personal funds. Here are the conditions that apply for Medicare Hospice Benefits:
You are eligible for Medicare Part A (Hospital Insurance)
Your doctor and the hospice medical director certify that you're terminally ill and have 6 months or less to live if your illness runs its normal course.
You sign a statement choosing hospice care instead of other Medicare-covered benefits to treat your terminal illness.
You get care from a Medicare-approved hospice program
You understand that Medicare will still pay for covered benefits for any health problems that aren't related to your terminal illness.
Special benefit periods apply to Medicare hospice care and some services do not apply. Be sure to understand the rules and requirements of Medicare payment before you commit. Hospice is available to anyone, regardless of age or illness. If Medicare or private insurance is not available, hospice services may be available for low income individuals through grants or charitable donations. Many hospices are non-profit and will provide services to anyone in need. Many families or their loved ones' doctors often wait too long to order hospice. Hospice is a very valuable service and should be ordered at an earlier stage of illness. Many do not consider hospice for Alzheimer's, degenerative old age or other debilitating illnesses where a person is going downhill fast. They should.
It is unfortunate that many people who died in a hospital emergency room or who received heroic treatments to prolong life in a hospital may have had the alternative of dying at home in familiar surroundings, with family or other loved ones at their side.
When someone is in crisis or appears to be going downhill fast but there really is no hope for recovery, family often call 911 and start a process which can result in great stress and great emotional discomfort. The loved one who is dying ends up in a hospital and may die there or be transferred to a nursing home where death eventually occurs. When there is no longer hope for prolonging life, especially when this decision is made months in advance, hospice is usually a better alternative to other medical intervention.
The days leading up to the moment of death of a loved one can be rich with meaning and expressions of love. Family and caregivers should allow others to help with the care and daily responsibilities. They need to free themselves from the details of caregiving and instead need to use hospice to allow more time to reminisce, give thanks for a life shared and say goodbye.