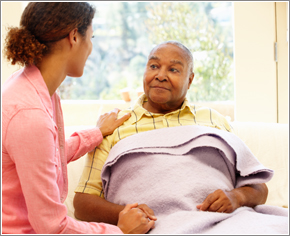 Nursing homes accommodate two types of senior services. The first are acute care services for patients who are recovering from a hospital stay or a major surgery. The nursing home does not become their residence since the average stay for an acute care patient is about twenty days. The other senior who uses a nursing home is the long-term care resident who may spend an average of two years or more in a nursing facility. Although a nursing home is associated with medical care, most long-term care patients will finish out their lives in a nursing facility as their primary residence. Very few return to their homes. Unfortunately, this doesn't have to be the case. For most residents, the same kind of care received in a nursing home could be offered at home. This is because not that many nursing home residents need 24-hour supervision from a nurse. The reason home care is not an option is because it is typically cheaper for government programs to provide long term care in a nursing home.
About 70% of nursing home residents are receiving help from Medicare or Medicaid and Medicaid pays approximately 50% of the total of all nursing home costs. And the great majority of the other residents who are paying out of their own pocket are going through Medicaid spend down, depleting their assets in order to qualify for Medicaid. All these people relying on Medicaid simply don't have the income or resources to receive care at home and live out their lives at home. They must rely on Medicaid to provide room and board as well as the care that qualifies them for room and board in the nursing facility. Unfortunately, Medicaid favors nursing home care to provide long-term care to the aged. For all practical purposes a nursing home as a retirement care community is a government Medicaid-provided, living arrangement. It is simply another very expensive form of government provided housing.
Medicaid programs are under a great deal of pressure nationwide to provide care in assisted living facilities or in the home and some state Medicaid programs have done a good job in converting care in that direction. But, by and large, the bias is to continue care in nursing homes. In fact, Medicaid rules and some states require anyone wanting home care or assisted living to spend time in a nursing home first before they can transfer to the other living arrangements. This illustrates the bias of Medicaid towards nursing homes.
Acute Care Rehabilitation
Nursing homes provide a cost-effective way to enable patients with injuries, acute illnesses or postoperative care needs to recover in an environment outside a hospital. When these patients are admitted from a hospital, Medicare will cover the cost.
At any given time, only about 13% of nursing home residents are being covered for their stay by Medicare rehabilitation, and their average stay is only 23 days. But in any given year, a large number of acute-care Medicare patients as well as some private-pay and private insurance-pay will cycle through US nursing homes on their way to recovery.
For every 100 elderly patients in a nursing home in a given year, 38 will recover or stabilize so they can be discharged. Of course, those leaving will be replaced by about 38 new patients needing care.
Hospital Model of Pricing
The cost of a nursing home depends a great deal on where it is located in the country and whether it attaches a surcharge for private paying patients versus Medicaid and Medicare patients. The Internet is replete with nursing home search services and prices in any given area with specific nursing homes can easily be determined. But remember this is for private pay services.
Nursing homes look very much like hospitals. Staff are housed in accessible nursing stations. Residents live in utilitarian, hospital-like rooms with little or no privacy and they sleep on hospital beds and are usually referred to as "patients" by the staff. Hospital pricing models are also used. Residents are charged daily flat rates for semiprivate or private rooms just like a hospital. Extra services and supplies are added to the bill. This pricing model assumes that all residents require the same supervision and care. Of course, this is not true.
A lot could be done to improve the current system. For example, if family or friends were to help in the care of loved ones, these services could be deducted from the bill. A number of residents are also capable of helping with the care of fellow residents or they might help with the facility services such as cleaning, food preparation, social needs, laundry and so on. These cost savings could be passed on to all residents.
State and Federal governments pay about 70% of nursing home costs and for about 85% of all residents the government pays part of or all of their costs. Because the government pays such a large portion, nursing homes structure their care delivery system around the government payment system.
Government reimbursement is based on nursing hours and aide hours per patient, plant costs, wages, utilities, insurance, ancillary services, etc. and basically follows a hospital model. Because government programs typically are burdened with massive stationery inertia, the current pricing model will be around for a long time.
The Effect of Medicaid and Medicare Reimbursement Rates on Private Pay Rates
Medicare covers about 12% of private nursing home costs while Medicaid covers about 50%. The Veteran's Administration nursing home operations bring total government support of nursing home costs to about 70% of the total. Such a large reliance on government support has made nursing homes vulnerable to vagaries in state and Federal reimbursement policies towards nursing homes.
Prior to 1997, Medicare reimbursements to nursing homes were based on actual costs submitted on each patient. The Balanced Budget Act of 1996, forced Medicare to phase in a prospective payment system of reimbursement which is currently now fully implemented. Payments are still made for each patient but are based on pricing formulas determined by the intensity of care needed (so-called case-mix ratio) as well as the number of anticipated days of care multiplied by a rate factor derived from 1998 historic costs in that geographic area. This is prospective payment. As a rule, nursing homes claim they are losing money with this payment system.
Many nursing homes also claim that Medicaid reimbursement is not paying their actual costs as well. Medicaid reimbursement is carried out at a state level. Generally, the States employ some rather convoluted and arcane rules to reimburse nursing homes. Most states reimburse with a prospective payment system like Medicare but a few states reimburse actual costs up to certain predetermined statewide maximum amounts. Some states pay directly, others pay through privately-contracted managed care administrators. Medicaid reimbursement to nursing homes is not uniform from state to state. Some state nursing home associations claim that 85% of their member nursing homes are not meeting costs with Medicaid. In other states nursing homes may be faring better.
Medicare and Medicaid reimbursement have a direct impact on the daily bed rates of private-pay residents. These are residents who are paying out-of-pocket for their own care. They may be spending money from their own income and assets or their family may be pitching in as well. Many of these people are going through Medicaid spend-down--depleting assets until they qualify for Medicaid. If the nursing home is losing money on government reimbursement it may be charging private-pay residents higher daily rates to make up the difference.
But one should not assume this is always the case. At least 2 states, Minnesota and North Dakota prohibit nursing homes from charging more than the Medicaid reimbursement rate. In addition, not all homes lose money on government reimbursement. These facilities may be charging the same for all residents. Finally, although most states prohibit nursing homes from charging private-pay less than the Medicaid reimbursement rate, in those states that allow it, private-pay residents may be paying less than with Medicaid.
Medicare
Medicare is the government health insurance plan for all eligible individuals age 65 and older. Because of its universal availability almost everyone over age 65 in this country is covered by Medicare. There are about 48 million Medicare beneficiaries nationwide.
Traditional Medicare will pay for 20 days of a skilled nursing care facility at full cost and the difference between $194.50 per day and the actual cost for another 80 days. Private Medicare supplement insurance usually pays the 80 day deductible of $194.50 per day, if a person carries this insurance and the right policy form. However, Medicare often stops paying before reaching the full 100 days. When Medicare stops, so does the supplement coverage. The average paid Medicare nursing home stay was 23 days in 1997, only 1/5 of the allowable time. Nationwide, Medicare paid 12% of nursing home receipts in 1998.
To qualify for Medicare nursing home coverage, the individual must spend at least 3 full days in a hospital and must have a skilled nursing need and have a doctor order it. The transfer from a hospital must occur within a certain time period.
There is a misconception that Medicare automatically covers up to 100 days of all nursing home stays. In reality, 100 full days of Medicare coverage is not that likely. Not all nursing home admissions come from a hospital--a prerequisite for Medicare coverage. Less than half of all nursing home admissions are from the hospital. Also, a hospital stay resulting in nursing home care does not automatically qualify for Medicare coverage. The stay may have been less than 3 full days or there may not be a skilled need. And as has already been pointed out, even when a person qualifies for Medicare cover a certain number of days age it is likely to be much less than 100 days.
Medicare advantage plans have become popular in the last few years. Unlike traditional Medicare, these plans cover nursing homes differently. Typically, there is a co-pay from day one and the insurance plan will only allow a certain number of days for rehabilitation. After that, application must be made if further rehabilitation is needed.
Medicaid
Medicaid is a welfare program jointly funded by the federal government and the states and largely administered by the states. In 1998, Medicaid paid for 46.3% of the $88 billion received by all US nursing homes. Although the bias is only to cover eligible patients in semiprivate rooms in nursing homes, a recent court decision is forcing the States to consider more Medicaid funding for home care and assisted living. To receive a Medicaid waiver for alternative community services, the patient must first be evaluated for 90 days in a nursing home.
To qualify for Medicaid a person must spend-down his or her liquid assets to $2,000.
There are numerous horror stories about people losing their house and cars to Medicaid. But these tales are unfounded. A healthy spouse can keep the car and house as well as a share of liquid assets. If the healthy spouse eventually needs Medicaid, after she dies, Medicaid recovery is supposed to recover its costs by establishing claim against equity in the home. Some states do a good job of recovery but most don't.
Insurance
Insurance is an alternative source of funding for long term nursing home care. From virtually nothing 10 years ago, insurance paid 5% of nursing home receipts in 1998. This percentage is increasing every year. The government is also sending a clear message it wants private insurance to play a larger role. This began with the recommendation of the Pepper Commission in 1992 and continued with the HIPAA legislation in 1996 and on to the offering in 2003 of long-term care insurance for federal workers, military, retirees and their families.