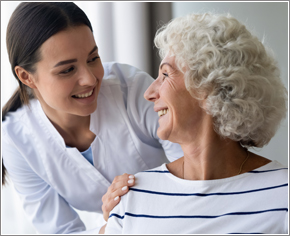 Sharing a Home or Hiring a Live-in Paid Caregiver
Some families may have raised their children or live in a home with extra bedrooms and desire to have an elderly person living in their home to watch over and take care of. They may advertise their intent online or provide their services through a local Area Agency on Aging. Or there are private organizations that match home owners with potential elderly renters. Some states may require licensing and screening for this type of arrangement, especially if the elder person receives caregiving services.
Sometimes young couples or college students are looking for inexpensive or no cost housing and are willing to make an arrangement with an aging senior to live in their home and help take care of them. In this case the person or her family desiring a live in caregiver would place an ad under and appropriate listing service. Very often the live-in caregiver might be a niece, nephew or grandchild who is willing to take care of their older relative in exchange for free lodging. Or another common arrangement is for a single daughter to move in with one or more parents and take care of them in their own home.
Finally, for those elders who have sufficient funds, an advertisement can be placed for someone to live in the home, receive free lodging and be paid to be an exclusive care giver. With the current trend for children to move hundreds of miles away from their parents this is becoming a more common alternative for the elderly who wish to remain in their homes. Finding a paid, live -in care giver often can be contracted to a personal home health agency or a personal care manager.
Independent Living Facilities and Congregate Housing
Independent living or congregate housing communities are residential communities for active older adults who want an enjoyable lifestyle free of the worries and trouble of home maintenance. They are similar to any apartment, condominium, or single-family development, except that they provide special services, including security - an important consideration for many residents. Most independent living communities are fully secured; staff members greet and screen all visitors around the clock. Residents can leave the premises for extended periods of time knowing that their living quarters will be safe.
The difference between this living arrangement and those discussed previously is there is more accommodation made for care. These communities will offer linen services, maid service, handyman help, meal programs, transportation and even help in getting around the facility - as long as it doesn't require a major commitment from the staff. In many respects these communities are similar to assisted living which is discussed in separate article except assisted living also is licensed to provide care services such as help with bathing, dressing, toileting, diapering, medicating, helping with daily living decisions and moving from one place to another.
Some independent living communities accommodate care needs by providing access to home health services from an independent agency. This allows a person needing care to remain in the community and not have to move and leave friends to go to a dedicated care facility.
Assisted living and congregate living look very similar and offer elders similar amenities. Also costs may be similar in the case where assisted living tacks on extras for care; consequently, many elderly will choose assisted living over independent living because of the added assurance of having care available and not having to move to a new location to receive care.
The number of new assisted living beds far exceeds the number of new independent living beds constructed each year. Recently the difference between congregate or independent living and assisted living has been further blurred because many independent living communities now provide sections licensed as assistant living and the difference in names has become a matter of semantics. The reverse is also true. Newer communities designed for assisted living will also have a separate section for independent living.
Most independent living communities are rental communities, but a few are condominiums or single-family communities in which residents must purchase their own units or homes. Costs and services vary widely. In some communities, a monthly fee covers many services, while in others a fee-for-service system is used. The most common type of retirement residence will have a mix of studio, one room apartments with a private bath and some 1 and 2 bedroom apartments. Most of the moderate to budget category retirement residences will only have studio one room apartments available. These tend to be older facilities constructed before 1980. Since 1985, there have been a number of facilities constructed that have luxurious amenities with few studios and mostly 1 and 2 bedroom units.
This reflects a change in the demand for this type of housing. Seniors that need or desire this type of housing have a strong preference for 1 and 2 bedroom apartments if they can afford it versus the one room studio apartment. This may reflect a growing affluence as well as a preference change in the elderly who are moving to this type of residence.
A few independent living communities offer subsidies based on strictly defined need. There is almost always a waiting list for subsidized units. To learn more about what is available, contact your local Area Agency on Aging.
Early stage Alzheimer's patients may be accommodated in a congregate or independent wing of a multi-level campus. As the disease progresses residence develop argumentative behavior, "sundowning" and wandering habits. Generally, the communities best equipped to deal effectively with this middle stage patient are Alzheimer' communities which are typically specially licensed and constructed assisted living facilities.
The costs of this type of senior housing vary tremendously, from $1,500 a month to over $4,000 a month. What does an elderly person get for $1,500 a month? Usually, it is a small one room apartment with its own bath and a roommate. Yes, that's right a roommate. Every retirement residence that offers three meals a day, activities, maid service and free transportation will only offer such attractive rates if an elderly person will share a one room apartment with another senior. Many facilities accept those seniors who are on SSI (a special income subsidy through Social Security for those with a poverty level income and no financial assets) but always require that they share an apartment with another senior.
One of the most striking things that has changed with this type of housing is the average age of the person who moves in today versus years ago. The average age today of the typical resident who moves in is 83 according to most facilities surveyed. In 1980 the average age was approximately 75. The change in the average age of the residents has brought with it a number of changes as well in the services provided the residents of these facilities. With advanced age there is more demand for personal care services and special services like escort service to the dining room for the more frail residents.
Some facilities have taken the approach of segregating those elderly who require assistance from those who don't in a separate wing of the residence with its own dining room and activity areas. They feel that they can only attract independent active seniors if they require a level of independent living in the main part of the residence. At this point however, there seems to be no consensus about whether this is a good way to handle the problem of "aging in place" or not.
The following list of activities and amenities was garnered from many web sites and is representative of the many services independent retirement living can offer:
Restaurant style dining
Flexible meal program (180 meals included annually)
Private dining room
Complimentary hospitality bar
Monthly special events dinners
Housekeeping & Linen Program
Housekeeping service (every other week)
Weekly flat linen service
Activities Program
Full-time director
Social events
Educational & cultural events
Residents' special interest events
Transportation Program
Scheduled transportation
Planned trips
Maintenance Program
Professional maintenance department
Appliance maintenance
Building & grounds maintenance
Health Safety NetTM Program
Health & Wellness Program
Free Health Care Days
Meridian Health Centers Available
Full-time Health Services Director
Emergency alert cord in each apartment
Fast Track Program
Home sale assistance
Timely sale
Market valuation
Move-in assistance
Professional services on-site
Postal services
Community Amenities
Location
Convenient to community services
Residential neighborhood
Beautifully landscaped
Outdoor patios
Adjacent to Ralston Park
Spacious one- & two-bedroom apartments
Private balconies & patios
Walk-in closets
Wall-to-wall carpeting
Full size kitchen appliances
Individually controlled heat & air conditioning
Cable TV available
Central TV antenna
Spacious lounges & meeting rooms
Library
Game room
Craft room
Exercise room
Resident laundry facilities
Hair salon
Free surface parking
Covered parking
Guest accommodations
Controlled access into building
Smoke detectors & fire sprinklers
Walking paths
Independent Living and Senior Apartment Communities
Guide to Retirement Living Staff
Mixed women's and men's chorus groups
A Bible study group
Line dancing
Exercise for Fitness
Water exercise classes
An enclosed year-round lap pool and walking track
Vespers services
Bridge Club and Card Club
Horticultural Club
Computer Club
A hand-bell choir
Big Band Club - our 12-member musical ensemble.
Bristol Village Women's Writers group
Bowling league
Indoor lawn bowling
Bingo
Volunteers at the Library program
Ping pong
Potluck suppers
Pickle ball
Tai-chi
Arts and crafts
Weaving
Stained glass art
Ceramics and pottery classes
Sewing