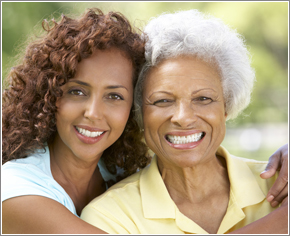 The Popularity of Home Care
Most of those receiving long term care and most caregivers prefer a home environment. Out of an estimated 9 million older Americans receiving care, about 6.3 million or 70% are in their own home or the home of a family member or friend. Most older people prefer their home over the unfamiliar proposition of living in a care facility. Family or friends attempt to accommodate the wishes of loved ones even though care giving needs might warrant a different environment. Those needing care feel comfortable and secure in familiar surroundings and a home is usually the best setting for that support.
Often the decision to stay in the home is dictated by funds available. It is much cheaper for a wife to care for her husband at home than to pay out $3,000 to $5,000 a month for care in a facility. Likewise, it's much less costly and more loving for a daughter to have her widowed mother move into the daughter's home than to liquidate mom's assets and put her in a nursing home. Besides, taking care of our parents or spouses is an obligation most of us feel very strongly about.
For many long-term care recipients the home is an ideal environment. These people may be confined to the home but continue to lead active lives engaging in church service, entertaining grandchildren, writing histories, corresponding, pursuing hobbies or doing handwork activities. Their care needs might not be that demanding and might include occasional help with house cleaning and shopping as well as help with getting out of bed, dressing and bathing. Most of the time these people don't need the supervision of a 24/7 caregiver. There are, however, some care situations that make it difficult for caregivers to provide long term care in the home.
It is precisely the ongoing and escalating need for help with activities of daily living or the need for extended supervision that often makes it impossible for a caregiver to provide help in the home. Either the physical demands for help with activities of daily living or the time demand for supervision can overwhelm an informal caregiver. This untenable situation usually leads to finding another care setting for the loved one. On the other hand, if there are funds to hire paid providers to come into the home, there would be no need for finding another care setting.
Traditional Arrangement
Care in the home provided by a spouse or a child is the most common form of long-term care in this country. About 73% of all long-term care is provided in the home environment typically by caregivers who receive no compensation for their labor.
The supervision of care or hands-on care from informal caregivers is limited to activities that don't require a skilled background. Lifting, bathing, dressing, diapering, toileting and helping with walking can be a challenge to family caregivers because they don't have the proper tools or are not trained in this area. Or the children of elderly care recipients may have difficulty dealing with cleaning messy bottoms or bathing their parents. Another problem may be handling errant behavior from dementia or depression.
Because of this, some caregivers bring in paid providers to help with lifting, walking, bathing, incontinence, toileting, dressing and supervision.
Another home care arrangement is for family members, who are not living close by or who are employed fulltime, to become coordinators of care and to offer only limited, personal, hands-on care. These people might hire a care manager to act on their behalf.
Home care is almost always provided in the home of the recipient or the home of a family member or friend. Home care may under certain circumstances be offered in other settings such as group homes or independent retirement communities. Below are some of the activities provided by or supervised by family caregivers.
Help with walking, lifting and bathing
Help with using the bathroom and with incontinence
Providing pain management
Preventing unsafe behavior and preventing wandering
Providing comfort and assurance or arranging for professional counseling
Feeding
Answering the phone
Making arrangements for therapy, meeting medical needs and doctors' appointments
Providing meals
Maintaining the household
Shopping and running errands
Providing transportation
Administering medications
Managing money and paying bills
Doing the laundry
Attending to personal hygiene and personal grooming
Writing letters or notes
Making repairs to the home, maintaining a yard and removing snow
Communal Arrangements
In large urban areas where neighboring families have lived together in an apartment complex and grown old together, there is a possibility for residents in the complex to band together and watch out for each other. This might also include limited caregiving services for neighbors. But it more likely would include helping neighbors with such things as light housekeeping, shopping, companionship, medication reminders and transportation.
Another arrangement becoming popular in Europe is for the elderly to share an apartment or home together and provide for each other's needs. In Europe there are actually agencies that bring together interested elderly parties who desire to share living arrangements. We're not aware of these services in the United States.
Currently the only way we are aware of elderly people coming together to share a home or apartment is through classified ads. A daily reading of online ads will probably yield a number of offers from people desiring a roommate who can also provide some care services for each other.
Formalized Communal Arrangements - Shared Living Residence
A shared living residence provides private rooms and shared kitchen and living areas in a family home environment for 3 to 10 older people who share rental expenses and homemaking activities.
A shared living residence may be owned or sponsored by a community organization and rented to residents. Additional supportive and household assistance for residents will vary according to the independence level of the residents. No government licensure or certification is required unless personal care is charged for or provided by the sponsoring organization. Charges or rents may be priced at market rates or subsidized with government assistance.
Who Provides This Care?
The financial impact on informal caregivers depends on who the informal caregiver is. For a spouse there is typically no financial cost since income and assets will be the same with or without a need for care. However, if a spouse offering informal care is employed and has to quit his or her job to provide care there is a significant impact on that family's finances.
Despite the fact that there may be no significant financial impact on a spouse caring for the other spouse at home, there can be significant impact on the emotional and physical health of the caregiving spouse. Because of the strain and burnout often associated with caregiving it may be that the healthy spouse will eventually succumb to the stress, develop medical problems and need long term care as well. And in some cases healthy spouses have succumbed to the pressures of caregiving in a fairly short time and died prematurely, well before their care recipients have died.
A caregiver other than a spouse, in many cases, may have to suffer financial sacrifice in order to provide long term care for a parent, an aunt or uncle or a grandparent. In most cases this means giving up or cutting back on paid employment in order to provide the care. This financial sacrifice is often offset by the fact that the non-spouse caregiver may move in with the care recipient and receive free room and board. Or it is very common for the care recipient to move into the home of the caregiver. In this case the caregiver is reimbursed by having his or her loved ones provide their income to help with the cost of care in the home. If full-time employment needs to be sacrificed, this extra income from a loved one may help to compensate for the loss of earned income. And as has been mentioned, the stress of caregiving can often be much more detrimental than the financial loss.
Formal caregivers are typically paid providers but they may also be volunteers from a government or nonprofit organization. Where care is being provided in the home there is typically a mix of formal and informal care provided. And the trend is towards using more formal care since, unlike the past, more family caregivers are employed and choose to remain employed and juggle the responsibility of caregiving with maintaining a household and a job. These added responsibilities often make it necessary to hire non-medical home care aides to provide supervision and help when the primary caregiver cannot be present. Or as adult day care becomes more common, caregivers may pay for this form of service to get rest or to allow for maintaining some employment.
When care is no longer possible in the home, then formal caregivers come into play on a full-time basis. This may be in the form of a congregate living arrangement, assisted living, a continuing care retirement community or a nursing home. It is at this point that long term care can have a significant impact on the finances of the care recipient and a healthy spouse living at home. Other living arrangements are quite expensive and the cost for maintaining a spouse in such a living arrangement may rob a healthy spouse at home of an adequate standard of living. It's quite possible the healthy spouse may end up with food stamps and subsidized housing where, before the need for a care facility, this may not have been the case.
Or it is more often the case that the couple recognizes this dilemma of splitting living arrangements in two locations and an attempt will be made to keep the spouse needing care at home as long as possible. This may help with the finances but often results in destroying the physical and emotional health of the caregiver by creating a situation where the caregiver has difficulty coping with the responsibilities and physical demands. Adequate long term care planning, well in advance of the need for care, can anticipate and deal with many of the problems outlined above.