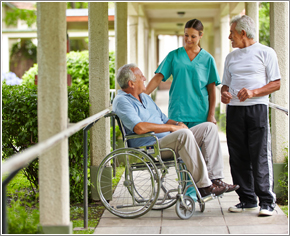 Caregivers face many challenges providing care at home. A wife caring for her husband may risk injury trying to move him or help him bathe or use the toilet. Another situation may be the challenge of keeping constant surveillance on a spouse with advanced dementia. Or a son may live 500 miles from his disabled parents and find himself constantly traveling to and from his home, trying to manage a job and his own family as well taking care of the parents. Some caregivers simply don't have the time to watch over loved ones and those needing care are sometimes neglected.
The problems with maintaining home care are mainly due to the inadequacies or lack of resources with informal caregivers, but they may also be caused by incompetent formal caregivers. These problems center on five issues:
Inadequate care provided to a loved one
Lack of training for caregivers
Lack of social stimulation for care recipients
Informal caregivers unable to handle the challenge
Depression and physical ailments in caregivers resulting from caregiver burnout
In order to make sure home care is a feasible option and can be sustained for a period of time, caregivers must recognize these problems, deal with them and correct them. The responsibility for recognizing these problems and solving them is another function of the long term care planning process and the team of specialists and advisers involved.
Inadequate Care Provided to a Loved One
Neglect
If the caregiver can spend only minimal time in the morning and evening and will be absent the rest of the day, those receiving care quite often become imprisoned by their environment. They receive little or no social stimulus and may spend day after day just sleeping or watching television. They typically get no exercise other than moving to or from the bathroom and often they suffer from poor nutrition and dehydration due to lack of adequate food and fluid intake.
Drinking and eating are deliberately avoided to lessen trips to the bathroom or to avoid soiling a diaper. Malnutrition and dehydration often result in poor mental reasoning or stupor, thus contributing to the daily routine of only sitting, sleeping and enduring the TV. This is not a noble way to finish out one's life. And we are doing these people an injustice by keeping them imprisoned in this manner at home. They should either be in a good adult daycare center or in the more stimulating environment of an assisted living facility or the family should sacrifice, spend money and bring in full-time aides to provide more adequate care.
Self-Neglect
Self-neglect is where the care recipient is not interested enough or is incapable of taking care of his or her own needs. This may mean not eating or drinking enough or not attending to personal hygiene. It may mean allowing garbage to accumulate in the home or having pets that are unattended and leave feces and urine in living spaces. There may be a caregiver involved but for whatever reason the caregiver is not stimulating that person receiving care to take care of him or herself or the home environment. And for whatever reason the caregiver is not providing needed help. Self-neglect with or without a caregiver is actually a form of elder abuse and in some states it is required by law that its existence be reported. A caregiver allowing this to happen could be criminally charged.
Failure to Bring in Help
This is probably the biggest mistake caregivers make. Perhaps in order to save money to use when the loved one is gone or because they think they are "tough" many caregivers will not ask for help. Or it is common for caregivers to become so involved with their loved one that they isolate themselves from others. This isolation makes them reluctant to contact those who can help. Or a child may try to provide care from a long distance away and find it difficult or impossible to do. Regardless of the cause, failure to ask for help or to hire help can have dire consequences on the welfare of the care recipient and the caregiver.
Lack of Training for Caregivers
There is really no excuse for caregivers not to have training in the physical and emotional needs of their care recipient. Help is available from the local area agency on aging and in most cases will cost nothing. Here are some issues caregivers need to consider
Proper techniques for lifting and moving to avoid injuries
Proper use of bedpans and sanitation
Ways to prevent bedsores
How to deal with incontinence
How to provide proper skin care
How to maintain personal hygiene with a disabled person
Use of devices, modifications and systems to help with disability
How to maintain good oral hygiene and oral health
How to avoid yeast infections in older women
How to provide emotional and spiritual comfort
Knowledge and training on fall prevention
How to prevent falls
How to provide proper nutrition
How to provide foot care and hygiene especially with diabetic patients
Lack of Social and Physical Activity for Care Recipients
Many elderly buy into the notion that they themselves are no longer useful and as a result make little attempt to keep themselves healthy and active. After all, they are getting closer to the end of their lives and have no desire to try new things or to challenge themselves or to eat or exercise properly.
There is a great deal of anecdotal and research evidence that demonstrates older people can learn, can retain memory and can be actively involved in business and in the community. The lack of physical exercise, social involvement and mental stimulation in older Americans often leads to these people losing the ability to use their minds and their bodies. The older person's negative attitude towards aging becomes self-fulfilling.
Many studies show that older people who are physically active have less joint pain, lower blood pressure, less depression, fewer heart attacks and a lower incidence of cancer. Proper nutrition also has the same affect on the aging process; it delays the progression of debilitating illness or disability. Recent research also indicates that weight loss and exercise can reverse the severity of diabetes.
Lack of social stimulation can also lead to poor health. Having an interest in something not only stimulates an older person's mind but also creates a better mental attitude which results often in better health. And there is empirical evidence that using one's brain may prevent dementia in older age. Here are some suggestions that may actually improve the health of the care recipient and give him or her a better quality of life.
If it is feasible, provide hobbies.
If it is feasible, promote exercise adjusted to the care recipient's ability.
Allow the care recipient to care for pets and plants even if he or she suffers from dementia. (Nursing homes have demonstrated that Alzheimer's patients respond well to this therapy.)
Provide music or allow the care recipient to sing or play an instrument. (Nursing homes have also shown this helps immensely with dementia patients.)
Make the care recipient responsible for his or her own health
Allow for interaction with grandchildren or small children. (Another proven therapy)
Provide the care recipient with challenging games or puzzles.
Encourage the care recipient to read.
Provide planned activities for the care recipient.
Provide opportunities for volunteer work at home (many volunteer organizations can allow disabled folks at home to be involved through their computer and the Internet.)
Provide special meals and formal table settings.
Try new recipes.
Informal Caregivers Unable to Handle the Challenge
Failure to Recognize the Need for Help
Another situation where the use of home care from family caregivers should be weighed against other alternatives is where a caregiver is in over his or her head and either doesn't recognize it or won't admit it. The care is just too difficult to handle beyond a period of a month or more. Short-term the caregiver can handle it. Long term, help is needed. A professional caregiver at this point is needed.
Hire a Competent Adviser
We cannot stress enough the importance of using an adviser in a caregiver setting. A financial planner, care funding specialist or a reverse mortgage specialist may find the funds to pay for professional help to keep a loved one at home. A care manager can guide the family and the caregiver through the maze of long term care issues. The care manager has been there many times the family is experiencing it for the first time.
Understanding the options with long term care can be overwhelming to someone who does not have a background in this area. An elder law attorney can help iron out legal problems. And an elder mediator can help solve disputes between family members. Having competent advice can make the difference between allowing a loved one to remain in the home or seeking out government welfare assistance.
Admit Defeat
Some caregivers allow the situation to go beyond their control. They have gotten to it a point where depression and fatigue have clouded their judgment. It is extremely important for family members or advisers to recognize this situation and provide counseling for the caregiver. Perhaps at this point any further effort will only be detrimental to the caregiver and the focus shifts from the needs of the care recipient to those needs of the person providing the care. At some point the caregiver will have to admit that he or she can't handle it alone and a better solution must be found.
Considering Alternatives to Home Care
Despite the psychological advantage, we have seen that a home may not always be the best place for those receiving care or for the caregiver. And surprisingly, it is becoming more common for people needing care or anticipating care to seek out other living arrangements in preference to the home. The reasons for preferring another living arrangement may be varied but are usually based on issues such as lack of transportation, lack of security in the neighborhood, desire to avoid maintenance and yard upkeep, the need to cash out of a home to provide funds for care or the desire to associate with other elders.
Many care recipients may have a fear of leaving their homes. Agoraphobia affects about 30% of all elderly care recipients. The fear may prevent a person from getting better care and more mental stimulation in another environment. It may even require some counseling from a professional to persuade a person to leave the home. In many cases the family may force this decision upon their loved one resulting in damaged relationships and psychological injury to the loved one. In an attempt to expedite the move due to limited time available from family, cherished possessions may be discarded. Again we cannot stress enough the importance of using a professional in the transition from home to a community setting.
Community settings with care such as assisted living, board and care or foster homes may be limited in the amount of help that they can provide with long term care. This may be a result of licensing restrictions or it may be a result of lack of staff. The most common reason for checking out of assisted living is that more care was necessary. Abandoning a community care arrangement may also be due to a lack of funds. The next step is usually a nursing home.
Where Nursing Homes Fit in the Progression of Care Process
When the need for care gets to a point where the licensing restrictions of an assisted living don't allow for the intensive amount of help needed, or there's a lack of funds to hire the necessary help to remain in the home, a nursing home is the only other solution. But surprisingly a number of people in nursing homes could be just as well living in a community setting or at home.
The reason for these particular people being in a nursing home is due to Medicaid. In most states Medicaid favors nursing home care and there are waiting lists for Medicaid community care waivers or Medicaid home care waivers. Many people who could qualify for other care settings are stuck in a nursing home. Even those who receive the Medicaid waiver may not have a choice in the type of care they receive. It may be in a facility not to their liking or they may receive care from people that are not as competent as they should be. But for those who plan, a nursing home or a Medicaid waiver program need not be the eventual fate of someone needing care.
As a general rule most people do not like the nursing home environment. Newer homes are converting to a friendlier environment with a more homelike setting but the majority of homes offer a hospital environment. It can be an unfriendly and disturbing place. Most people would prefer a different living arrangement but their lack of planning has forced them to rely on Medicaid.
We cannot fail to stress the importance of planning ahead. Long term care planning will allow a person needing care in the future more choices than having to live out the rest of his or her life in a nursing home.