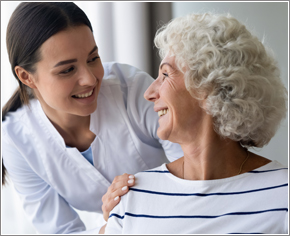 Using a Care Manager
Also known as Geriatric Care Manager, Elder Care Manager or Aging Care Managers, a Care Manager represents a growing trend to help full time, employed family caregivers provide care for loved ones living close by or needing long-distance care. Care managers are also particularly useful in helping caregivers at home find the right services and cope with their burden.
Below is a partial list of what a care manager or Geriatric Care Manager might do:
Assess the level and type of care needed and develop a care plan
Take steps to start the care plan and keep it functioning
Make sure care is received in a safe and disability friendly environment
Resolve family conflicts and other family issues relating to long term care
Become an advocate for the care recipient and the family caregiver
Manage care for a loved one for out-of-town families
Conduct ongoing assessments to monitor and implement changes in care
Oversee and direct care provided at home
Coordinate the efforts of key support systems
Provide personal counseling
Help with Medicaid qualification and application
Arrange for services of legal and financial advisors
Manage a conservatorship for a care recipient
Provide assistance with placement in assisted living facilities or nursing homes
Monitor the care of a family member in a nursing home or in assisted living
Assist with the monitoring of medications
Find appropriate solutions to avoid a crisis
Coordinate medical appointments and medical information
Provide transportation to medical appointments
Assist families in positive decision making
Develop long range plans for older loved ones not now needing care
Understanding the Value of Using a Care Manager
Services from care managers should be something that every family takes advantage of, but in reality very few families use care managers. Families just don't understand the value. Care managers could go a long ways towards helping the family find better and more efficient ways of providing care for a loved one. The concept is simple. The family hires a professional adviser to act as a guide through the maze of long-term care services and providers. The care manager has been there many times. The family is experiencing it usually for the first time.
Hiring a care manager should be no different than hiring an attorney to help with legal problems or a CPA to help with tax problems. Most people don't attempt to solve legal problems on their own. And the use of professional tax advice can be an invaluable investment. The same is true of using a care manager.
Unfortunately there are too few care managers and the public is so poorly informed about the valuable services of a care manager that help that could be provided goes lacking. Let's look at one example of how a care manager can assist the family.
Since most people go into informal caregiving without training or counseling they often aren't aware of the possible outcome described above. It is therefore extremely important to receive counseling and to formulate a plan of action prior to making a caregiving commitment.
It is fairly common for one member of the family to shoulder the burden of caregiving and other members of the family to be less involved or not involved in all. A very common reason that other members of the family are not involved is because someone has taken over the care and other family members are more than glad to let that person assume the responsibility. Here is an example.
Shelley has been watching out for and helping her mother since her father died of a sudden heart attack a year ago. Shelley's mother is 77 and Shelley's father, was a veteran of Korea. Her mother has arthritis and has difficulty bathing, dressing and moving around and she is also exhibiting early signs of dementia.
Mother makes $1,200 a month in Social Security, has $2,000 in savings and owns her own home. She has substantial consumer debt that she is burdened with and she cannot make ends meet. Shelley has been helping her meet her obligations. Mother also takes advantage of the low income utilities programs and other government support to help the elderly poor.
A good friend and neighbor stops by in the morning to help mother get dressed and to fix her breakfast and Meals on Wheels comes at noon to leave her lunch. Shelley comes by in the late afternoon, after work, and fixes her mother dinner, helps her get a bath if necessary and gets her ready for bed. Shelley spends her entire weekends with her mother. Shelley has no husband or children but she also has no life of her own because of the care of her mother.
Her brothers and sisters, who also live in the area, are perfectly happy with this arrangement because they have their own families and they think everything is under control. They have made no offers to help, other than to take mom shopping or to the doctor. However, they always seem to have plenty of advice for Shelley. Shelley feels trapped.
Shelley attends a presentation during her lunch break at work entitled "Planning Strategies for Aging Seniors" and obtains a copy of the book by the same name. After reading the book, she realizes she has many more options than she thought and she feels empowered to take better control of the caregiving morass she has fallen into.
She discovers some of the caregiving options available to her. She next consults with a financial planner and an elder law attorney to understand funding and legal issues.
Her next step is to arrange a meeting between her, her mother and her brothers and sisters.
Mother is adamant about staying in her home as long as she can, and because her family loves her, they want to respect her wishes as far as humanly possible.
Shelley has uncovered the following solutions for care:
As a result of reading the book, Shelley discovers the value of using a care manager. Shelley hires a care manager to do an assessment of her mother and the care manager has a number of valuable recommendations, including the involvement of other family members. The care manager, who is a nurse, also feels that mother's arthritis could be treated more adequately to provide some improvement. She also suspects the mild dementia is probably due to poor nutrition, lack of stimulation and depression and is not an organic condition. The care manager has suggested a geriatrician for Shelley's mother, who has an excellent reputation for diagnosing and treating and improving health conditions in the elderly.

1. Because Shelley's father was a veteran, her mother can get a little over $1,000 a month from VA to cover home care costs. This is extra money on top of the Social Security.
2. Her mother can qualify for a reverse mortgage to pay off the debt and turn remaining funds into an additional lifetime income to allow her to stay in the home.
3. Someone needs to have power of attorney and there must be a plan in place with what to do with the house in case mother can no longer live at home and must go to a facility. The attorney and financial planner have offered some good suggestions.
Because of her demanding schedule as caregiver and working full time, Shelley needs help from her family in arranging for these solutions and in giving her the additional support she needs as a caregiver. She has a long talk with her older brother and helps him understand the situation and he agrees to call a family meeting. He also agrees to discuss the situation with other family members and to come away with an agreement between them all on how to support their mother in the home and help Shelley as the caregiver.
The family meets together and the older brother goes over the entire scenario with the others, who up to this point have been content to let Shelley handle everything and really do not know all that is going on.
Agreements are made for members of the family to assume responsibilities for completing the solutions to a care plan. The older brother will be power of attorney and be responsible for the finances because he is a CPA. In addition, by understanding their sister's plight, other family members agree to help with the caregiving as well.
An agreement is drawn up and everyone is given a copy. The older brother has been designated as the family care coordinator and he assumes responsibility of making sure everyone follows the care plan that was agreed to.
His ultimate responsibility is to make sure that all solutions and other options have been explored to provide the best care for their mother; and in addition, that everyone lives up to his or her promise made in the care agreement.